Before Jeremy Guthrie was traded to the Royals, he was in the midst of a career-worst season and appeared to be headed for a minor league contract in free agency. Since the Royals acquired Guthrie for Jonathan Sanchez on July 20th, the right-hander has pitched effectively, returning to his career norms. The turnaround should assure him of a guaranteed contract as a free agent this offseason and a multiyear deal remains possible.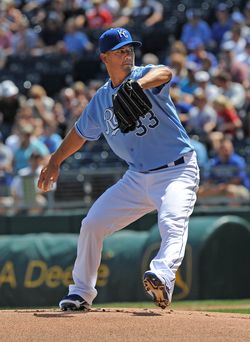 Coors Field was not a particularly welcoming home to Guthrie this year. Opponents posted a Bonds-esque .368/.415/.720 batting line against him in Denver's thin air. Overall, Guthrie posted a 6.35 ERA with 4.5 K/9 and 3.1 BB/9 in 90 2/3 innings for the Rockies. He allowed 12 hits and two home runs per nine innings. Not surprisingly, he lost his rotation spot and, eventually, his place on the team.
Credit Royals general manager Dayton Moore for looking past those numbers. Since Guthrie has joined the Royals he has a 3.13 ERA with 5.8 K/9 and 1.6 BB/9 in 72 innings over the course of 11 starts. He's generating more swings and misses with Kansas City (7.7% swinging strike rate) and averaging 93mph with his fastball.
Guthrie should appeal to the Royals when he hits free agency this offseason, as Kansas City could use more starting pitching. Moore has said that the club will "probably" wait until after the season to explore contract talks with Guthrie
Guthrie's representatives at CAA Sports figure to look for a multiyear contract in free agency and it sounds as though some longtime Royals observers aren't opposed to the possibility. Rany Jazayerli has suggested a two year, $15MM contract could work for both sides. Sam Mellinger of the Kansas City Star has suggested a two year, $18MM contract with a club option. 
A multiyear deal is certainly possible for the 33-year-old Guthrie. But in some ways he reminds me of Joe Saunders, who was selected ten spots before Guthrie in the first round of the 2002 draft. Both are innings eaters who limit walks, don't induce many strikeouts and allow lots of hits. The combination generally leads to substantial salaries through arbitration, but it doesn't do as well in free agency. Saunders, for example, signed a one-year, $6MM contract with Arizona last offseason. I expect Guthrie to sign a contract in that range following his up and down 2012 campaign.
Photo courtesy of US Presswire.