Five months ago it appeared that Phil Humber could be on the cusp of a breakout season. He had just pitched a perfect game in Seattle, striking out nine Mariners on day that his fastball sat in the 90-95 mph range. Since then Humber has allowed 72 earned runs, including 23 home runs, in 87 2/3 innings. There's no guarantee the White Sox will tender him a contract this offseason when he's arbitration eligible for the first time.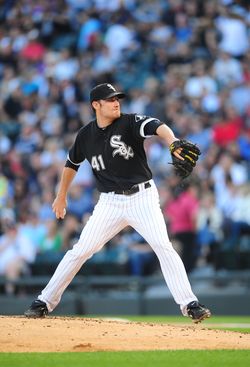 The White Sox selected Humber off waivers in January of 2011 and he responded with a solid season, pitching 163 innings with a 3.75 ERA and three times as many strikeouts as walks. The right-hander's numbers have dropped off considerably in 2012. He has a 6.44 ERA with 7.5 K/9, 3.9 BB/9 and a 34.9% ground ball rate in 102 innings this year. Humber's average fastball velocity is 90.5 mph and he has a swinging strike rate of 7.8%. He has been exceptionally homer-prone, allowing 23 home runs, or 2.0 per nine innings.
Humber started the year in Chicago's rotation, spent a month on the disabled list with a strained elbow midseason, and lost his rotation spot in early August. He has been pitching out of the bullpen since, but Robin Ventura has used Humber sparingly in September, another indication that the White Sox don't count him among the organization's most dependable arms.
Humber, who turns 30 in December, could obtain a salary in the $2MM range if the White Sox tender him a contract this coming offseason. The perfect game wouldn't make a major difference in an arbitration hearing, but his 2011 season was a strong one, and he has more than 300 MLB innings. Perhaps last year's success would be enough to create some trade interest in Humber, the third overall selection in 2004.
Still, the White Sox don't appear to view Humber as a $2MM player. If they considered him an essential part of their pitching staff, they'd have asked him to pitch more than twice this month. It means a season that began with a perfect game could end with a non-tender.
Photo courtesy of US Presswire.