For some players free agency means long-term contract offers and lavish visits to the cities of interested teams. Jason Frasor is not one of those players, and he knows it. The 35-year-old right-hander remains flexible as his upcoming appearance on the free agent market approaches, and he insists he'll play 'for anybody.'
"I'm not too picky," he told MLBTR this weekend. "They're all big league cities and I've been to each one. The thing is there are so many middle relievers. It's flooded with guys who do the same job as I do, so you're really fighting for spots. There are only so many spots to go around."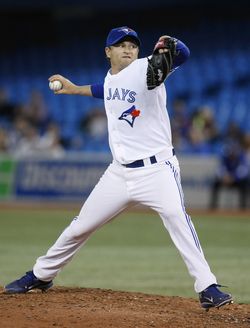 Frasor will hit free agency after the World Series ends and, assuming the Blue Jays don't make him a qualifying offer, he won't be tied to draft pick compensation. He was linked to compensation as a Type A free agent the last time he hit free agency, following the 2010 season. Instead of hitting the market as a Type A player, he accepted Toronto's offer of arbitration before signing his current contract. It's a process he won't miss.
"Looking back, it wasn't that fun," Frasor said, reflecting on the now-defunct Type A and Type B designations. "It wasn't that great. A few teams called, but I had strings attached … I'm glad that's gone. Now if they want you they can sign you. They don't have to give up a first round pick for a middle reliever. That doesn't make any sense."
Frasor's generally strong 2012 season ended with consecutive outings in which he allowed two earned runs without completing an inning. The Blue Jays' all-time leader in career pitching appearances finished the year with a 4.12 ERA, 10.9 K.9, 4.5 BB/9 and a 38.4% ground ball rate in 50 appearances. His average fastball velocity remained 93 mph and his swinging strike rate stayed relatively constant at 9.0%. Those numbers will be enough to generate modest contract offers at a time that many teams are seeking relief help.
The nine-year veteran will weigh contract value and location when deciding where to sign this offseason. He prefers the East Coast, feels more comfortable in the American League and would ideally prefer to join a winning team.
"But again, that's not going to stop me from signing with a West Coast team," he added. "We'll see."
Frasor realizes middle relievers often wait until the new year before finding jobs, and he would like to avoid that fate if possible. His preference would be to sign relatively soon instead of drawing out the free agent process. Beyond that his next move is anybody's guess.
Photo courtesy of US Presswire.