The Twins' pitching staff needs lots of work heading into the 2012-13 offseason.
Guaranteed Contracts 
Arbitration Eligible Players
Contract Options
Free Agents
The Twins have the highest ERA among teams that don't call Coors Field home, which makes it relatively simple to anticipate the team's offseason priorities. Unless Terry Ryan acquires pitching depth, the Twins will enter the 2013 season as a likely 90-loss team.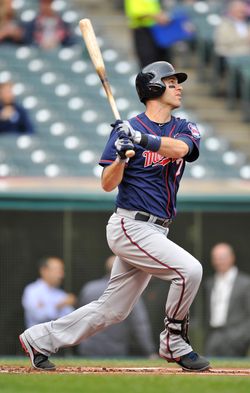 Few teams have as many rotation questions as the Twins, whose starting staff has been largely disappointing with the exception of Rule 5 selection Scott Diamond. Nick Blackburn was removed from the 40-man roster after 19 ugly starts, and Liam Hendriks, P.J. Walters, Carl Pavano, Brian Duensing and Esmerling Vasquez weren't much better, posting ERAs above 5.00. Help isn't necessarily on the way, either. The Twins' top pitching prospects are two to three years away in the estimation of the organization's minor league director, Jim Rantz.
Ryan must explore the trade market for starters, though prices will no doubt be inflated at a time that many teams are looking to improve their rotations. Free agency is an alternative for the Twins, who will need to acquire multiple starters if they hope to make significant improvements in 2013. It seems unlikely that Jake Peavy or Hiroki Kuroda would sign with Minnesota, but Joe Blanton, Brandon McCarthy or Shaun Marcum could be available on relatively short-term contracts. 
Any team with as much uncertainty as the Twins would also do well to sign pitchers to minor league deals in the hopes of finding a low-risk success. It's generally easier for teams with open rotation spots to convince intriguing starters to sign minor league deals, and this is an advantage the Twins would do well to maximize.
Though the Twins need pitching, they shouldn't overpay for it. I believe they should decline their club options for Scott Baker and Matt Capps. The cost of the options wouldn't be justified given the questions surrounding the pair of right-handers. Baker missed the entire 2012 season to undergo elbow surgery, so $9.25MM seems excessive. Perhaps the sides can work out an incentive-based deal with a lower guarantee, instead. Capps missed two months with rotator cuff irritation before returning to action last week. Even if he'd been healthy for the entire season, it wouldn't be advisable for the Twins to allocate $6MM — approximately 6% of their payroll — to a middle reliever who's effective but certainly not dominant.
There's value in having strong middle relievers, though, and it's an area the Twins should look to fortify this offseason. Ryan signed Jared Burton and Casey Fien to low-risk deals last offseason and if the GM can replicate that kind of success in 2012-13, his team will be one step closer to respectability.
Carl Pavano, who missed the final four months of the season with a shoulder strain, is the team's lone free agent. If the 36-year-old re-signs with the Twins it'd presumably be for a low base salary. Anything more than that would be excessively risky considering his injury and how hittable Pavano was before going on the disabled list.
Now that Drew Butera and Alexi Casilla are arbitration eligible, they're no longer bargains. Both project as backups with the Twins and should be considered non-tender candidates. Otherwise, the Twins' class of arbitration eligible players should be relatively straightforward. It doesn't include exceptionally large salaries or obvious extension candidates in my view.
The Twins could use more offense from their middle infielders. Only the Tigers and Orioles obtained a lower OPS from their second basemen this year. Only the Mariners obtained a lower OPS from their shortstops. Unfortunately for the Twins, this year's class of free agent middle infielders looks thin. If they don't pursue outside help, they can rely on Jamey Carroll, who recovered from a slow start to post a .343 on-base percentage in 2012, and rookie shortstop Pedro Florimon. Perhaps Stephen Drew, Jeff Keppinger and Kelly Johnson will get calls from Ryan this offseason. The Twins could also explore a trade market that might include names such as Yunel Escobar and Mike Aviles. 
Denard Span and Josh Willingham reportedly drew trade interest at this summer's trade deadline. If the Twins engage other teams in trade talks over the winter, Span and Willingham figure to draw interest once again. Both are productive players signed to team friendly contracts, so it'll make sense for the Twins to maintain the stance they adopted in July: 'we'd have to be overwhelmed to part with these players.' Still, the Twins are relatively deep in the outfield, and trading an established player such as Span might enable them to add a legitimate starter to the rotation. 
For the Twins to have a successful offseason, they must improve their pitching staff. They don't have to sign big-name starters, but they do need to begin the 2013 season with more viable rotation options than they have presently.
Photo courtesy of US Presswire.