The Rays, one of the few teams with pitching to spare, have needs at multiple positions this coming offseason.
Guaranteed Contracts
Arbitration Eligible Players (estimated salaries)
Contract Options
Free Agents
At some point we'll have to believe Andrew Friedman when he says he doesn't intend to trade from starting pitching depth. When he said as much a year ago, the rumors continued and the Rays held on to their pitching. Could this offseason be different? James Shields and David Price are becoming more expensive, so this could finally be the year the Rays trade a prominent member of their rotation.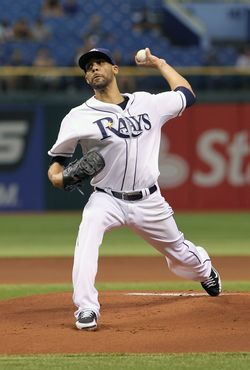 The Rays could address multiple needs by dealing a top-of-the-rotation starter. Their offense ranked 18th in MLB in runs scored, so there's clearly room for improvement. Still, Friedman has maintained in the past that there's little use in strengthening one area — such as offense — at the expense of another — in this case pitching.
The Rays were exceptionally good at preventing their opponents from scoring in 2012, allowing the fewest runs in MLB. Their team ERA of 3.19 is even more impressive considering they face designated hitters and play in a division that includes two of the top eight offenses in baseball. The rotation has enough quality arms that Shields or Price could be traded. It'd have to be for the right return though. The Rays haven't always obtained much in trades for starting pitching in the past, once sending Jason Hammel to Colorado for Aneury Rodriguez.
The players themselves are never the only consideration in pro sports, a reality fans of the Rays know better than most. Shields ($10.25MM) and Price (projected arbitration salary of $9.5MM) are making serious money now. Not only could the Rays obtain impact MLB players or prospects for their starters, they could create the payroll flexibility required to address other needs. Any serious offer for Price or Shields will include at least one controllable player with All-Star potential. It could be difficult for the Rays to pass on a trade involving someone like Wil Myers, Jurickson Profar or Mike Olt. 
Pinning down the Rays' payroll won't be easy — it never is. Their expenses have fluctuated considerably in the past five years, all the way up to $72MM and all the way down to $42MM. Assuming the Rays fall somewhere in that range again in 2013, they'll have one of the lowest payrolls in the game.
This means yet another homegrown player will leave Tampa Bay and sign elsewhere as a free agent this coming offseason. Center fielder B.J. Upton has positioned himself for a multiyear deal worth $10MM-plus per season and priced himself out of Tampa Bay. That much is certain. It's less clear whether the Rays will make Upton a qualifying offer and set themselves up for draft pick compensation. An offer seems probable, since the Rays could trade Upton in the unlikely event that he accepts.
The Rays didn't get much offense from first base, designated hitter or catcher this past season. Friedman could look to upgrade at any of those positions in the next few months. With Jeff Keppinger and Upton hitting free agency, there are also potential needs at second base and center field. Thanks to the defensive skills of Ben Zobrist, the Rays have exceptional flexibility. They can pursue players at every position but third base. 
Florida native Mike Napoli could be a fit if he's willing to sign a short-term deal. Napoli figures to have multiyear offers, but he might consider a competitive one-year offer to play close to home for a contender. Given the Rays' need for offense at catcher and first base it's worth a shot.
There's no way the Rays can address each of their needs through free agency, and every other team knows it. They'll have to consider trades — not just blockbusters but low-profile moves. Could they get an outfielder from the Athletics? An infielder from the Rockies? A catcher from the Blue Jays? A first baseman from the Nationals? The possibilities are just about endless.
The Rays have a medium-sized arbitration class that includes at least three non-tender candidates. Ben Francisco figures to lose his roster spot by the end of November and infielders Sean Rodriguez and Ryan Roberts could also be non-tendered.
Other organizations would view Price as an extension candidate at this stage in his career, but it's extremely hard to envision the Rays paying him market value; it could cost $100MM to sign the left-hander to a six-year deal. It'd be more the Rays' style to pursue extensions for pre-arbitration eligible players such as Desmond Jennings and Jeremy Hellickson. Even if it's uncommon for clients of the Boras Corporation to sign so early in their careers, there's no harm in checking in to see if a long-term deal could work for both sides.
The Tampa Bay front office faces four option decisions, one of which has already been picked up. Shields will be a bargain at $10.25MM. Rodney will be a steal at $2.5MM once the Rays exercise his option. The $1.8MM option for 37-year-old Jose Molina will also be exercised. Luke Scott could return if the Rays believe he's healthy enough to hit for power the way he did in Baltimore. Yet he's 34 years of age and spent considerable time on the disabled list last year, so he doesn't seem like the kind of player the Rays would spend significant money on.
As always, Friedman will have to find relief arms on a budget. The Rays have done impressive work supplementing their 'pen with low-risk relievers in recent years. Rodney, a revelation in 2012, might be Tampa Bay's most impressive relief acquisition of all. He'll return along with Jake McGee, Burke Badenhop and Wade Davis. However, Joel Peralta, J.P. Howell and Kyle Farnsworth are hitting free agency. Let the search for affordable relievers begin yet again.
The Rays enter the offseason with more needs than most 90-win teams. Their fantastic pitching staff will require a tune-up. And their below-average offense could use upgrades at a number of positions. It could lead to a lot of turnover, not that that's anything new for Friedman and the Rays.
Photo courtesy of US Presswire.