4:59pm: The Angels are sending $1MM to the Royals, Mike DiGiovanna of the LA Times reports (on Twitter).
4:15pm: The Angels weren't sure about Ervin Santana, but the Royals want to see if he can re-establish himself as an above-average MLB starter. The Royals acquired Santana and cash from the Angels for minor league left-hander Brandon Sisk, the teams announced. The Angels exercised Santana's 2013 option before completing the trade, Bill Shaikin of the LA Times reports (on Twitter).
"We've stated all along that starting pitching was a priority this offseason and acquiring someone with the resume of Ervin Santana immediately upgrades our rotation," Royals GM Dayton Moore said in a statement released by the team.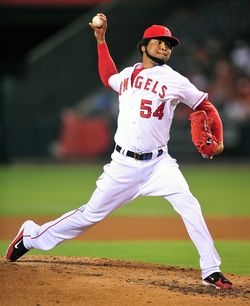 The Angels had limited interest in exercising Santana's $13MM option option, but the Royals appear to consider it reasonable. The Royals quietly checked in on Santana's medicals yesterday before completing the deal today, Bob Nightengale of USA Today reports (on Twitter).
The 29-year-old posted a 5.16 ERA with 6.7 K/9, 3.1 BB/9 and a 43.2% ground ball rate in 178 innings this past season. Santana's average fastball velocity declined to 91.7 mph, but his swinging strike rate remained constant at 8.4%. He had completed at least 220 innings with ERAs below 4.00 in 2010 and 2011. Rosenthal reported late last night that the Angels were trying to move Santana and Dan Haren.
Sisk, 27, made 50 relief appearances at Triple-A this past season. He posted a 2.54 ERA with 9.8 K/9 and 4.3 BB/9 in 67 1/3 innings — numbers that match up with his career averages through five minor league seasons.
The Royals began the offseason with a clear need for starting pitching. So far they have traded for Santana and claimed Chris Volstad. Volstad remains a non-tender candidate, but Santana will join Bruce Chen, Luis Mendoza, Felipe Paulino and Danny Duffy in the team's projected 2013 rotation. It won't be surprising if GM Dayton Moore continues pursuing starting pitching.
The Royals surely hope this acquisition works out better than the one they made early last offseason. A year ago Kansas City traded Melky Cabrera to San Francisco for Jonathan Sanchez in a deal that didn't work out for the Royals. To their credit, they did flip Sanchez for Jeremy Guthrie, who pitched well down the stretch. 
Ken Rosenthal of FOX Sports first reported the trade (on Twitter) and Jon Paul Morosi of FOX Sports first reported Sisk's inclusion in the deal (also on Twitter). Jon Heyman of CBSSports.com reported two days ago that the Angels were exploring trades involving Santana and Haren. Photo courtesy of US Presswire.