Leading up to the current offseason, MLB executives and analysts often described the 2012-13 free agent class as thin, weak, or top-heavy. Looking ahead to next year's class inspires similar reactions. These free agent classes are not overwhelmingly deep. 
Might it be time for teams and their fans to adjust expectations regarding free agency? MLB general managers told MLBTR it's prudent to maintain modest expectations for future free agent classes.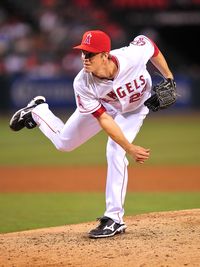 Jack Zduriencik of the Mariners acknowledged that there's less impact talent on the market this winter than in past years. But he said there's not necessarily a pattern to be deciphered when it comes to the quality of free agent classes.
"Every year is different," the GM said. "Next year might be a terrific year depending on what happens. Two years from now might be a great year also. You don't know what clubs are going to do. Even when you're sitting here thinking you know what's going to happen, someone inks a guy to an extension and it changes the future."
An abundance of extensions for star and superstar caliber players has definitely affected the quantity of elite talent available on the open market. For example, the Reds signed Joey Votto and Brandon Phillips to long-term contracts this spring, ensuring that they won't hit free agency in the prime of their careers.
"I think you're going to see probably less and less of the top quality guys because clubs are signing them long-term," GM Walt Jocketty told MLBTR in Indian Wells, California. "I think that's a trend that we'll continue to see going forward."
In other words teams saving up to spend on David Wright or Robinson Cano when they're scheduled to hit free agency a year from now might be disappointed. As MLBTR's Extension Tracker shows, 51 players have already signed multiyear extensions in 2012 — that's two full active rosters of players signed in the past ten months alone. Still, Jocketty made it clear that he believes quality players are available in this free agent class.
"I wouldn't say it's weak," he said. "I think there's not a lot of depth."
Indeed, it'd be tough to match the combination of Josh Hamilton and Zack Greinke in any year. Still, after the first 20 or so players, the list of top available free agents starts to feature more and more players with significant questions about health, age or performance.
Like Jocketty, Frank Wren of the Braves has had multiple GM jobs dating back to the 1990s. Over the years he has completed some shrewd signings (Billy Wagner) and some regrettable ones (Albert Belle). Wren has also noticed some diminishment of the quantity of star players in free agency. 
"I think it's due by and large to the strategies teams are taking of tying up their core young players," he said. "I think we are seeing that where it's a little tougher to fill some of your needs through that market."
This change heightens the importance of other avenues for acquiring and developing players. The Padres, for example, enter the offseason with the intention of relying on trades and internal development along with free agency.
"Probably a little bit of all, but probably not as much in free agency as some people think," GM Josh Byrnes said, adding that free agency ranks as a relatively low priority for the small-market Padres.
Last winter serves as a warning for teams flirting with the notion of spending big to accelerate toward the postseason. The Marlins had a disastrous season despite an offseason that included three major free agent additions: Jose Reyes, Mark Buehrle and Heath Bell. The Angels missed the playoffs after spending aggressively on Albert Pujols and C.J. Wilson. While the team spent on quality players, the additions weren't enough. Meanwhile, the Athletics ($53MM), Orioles ($26MM) and Nationals ($16MM) made the postseason in 2012 after relatively quiet winters on the free agent market. Sometimes there's a disproportionate amount of attention placed on free agency.
"A lot of times when you refer to free agency, most people would say 'oh we're going to get a free agent who's going to change our ballclub,'" Zduriencik said. "Well, that's not always the case."
For some especially aggressive teams, free agency offers the chance to sign elite players. But for most clubs free agency represents a way to supplement a team — not a way to radically alter the club's complexion.
Photo courtesy of US Presswire.