The Tigers announced that they have agreed to sign free agent right-hander Anibal Sanchez to a five-year contract that includes a 2018 club option. The deal is valued at $80MM according to, Bob Nightengale of USA Today, who first reported the deal (on Twitter).
"Anibal pitched tremendously for us down the stretch and during the post-season," Tigers president and GM Dave Dombrowski said. "He strengthens our starting rotation and we are pleased to have him back with the Tigers organization."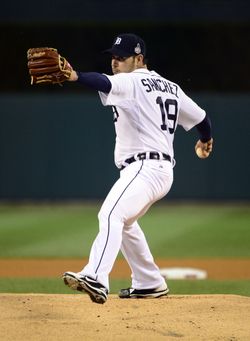 Agent Gene Mato represents Sanchez, who agrees to terms with Detroit after coming close to a deal with the Cubs. Cubs ownership and Theo Epstein offered Sanchez a $77MM contract in Miami last week, but the Tigers jumped in and won the bidding, Nightengale reports (on Twitter). The Red Sox also talked to Sanchez, but didn't go as high as $80MM, Jon Heyman of CBSSports.com reports (on Twitter).
Acquired from Miami in a midseason trade, Sanchez struggled upon arriving in Detroit but pitched well in September and in the postseason. The five-year preserves the Tigers' formidable rotation. Led by Justin Verlander, the group also includes Max Scherzer, Doug Fister, Rick Porcello and Drew Smyly. It's possible Porcello will become a trade candidate once the Tigers complete their deal with Sanchez; the 23-year-old has already drawn interest from a number of National League teams.
Sanchez posted a 3.86 ERA with 7.7 K/9, 2.2 BB/9 and a 46.4% ground ball rate in 195 2/3 regular season innings this past season. The 28-year-old also started three playoff games for Detroit, posting a 1.77 ERA in 20 1/3 postseason innings. His average fastball checks in just shy of 92 mph and he generates swings and misses on approximately one in ten offerings, according to FanGraphs.
The Red Sox signed Sanchez as an amateur free agent out of Venezuela in 2001 then, four years later, they traded him and Hanley Ramirez to the Marlins in the deal that sent Josh Beckett and Mike Lowell to Boston. The Tigers acquired Sanchez and Omar Infante from Miami in a trade this past July.
MLBTR's Tim Dierkes ranked Sanchez fourth among free agents, and second among pitchers behind only Zack Greinke. Sanchez would not have been linked to draft pick compensation if he had signed elsewhere, since he was traded midseason.
As MLBTR's Transaction Tracker shows, Sanchez's deal exceeds C.J. Wilson's five-year, $77.5MM contract and falls just shy of the five-year, $82.5MM contracts signed by John Lackey and A.J. Burnett.
Edwin Jackson, Kyle Lohse and Shaun Marcum are among the top remaining free agent starters, as MLBTR's Free Agent Tracker shows.
Photo courtesy of US Presswire.