MLBTR's Zach Links recently checked in on some of baseball's lowest scoring offenses, noting that clubs such as the Dodgers and Mariners could score more often in 2013 thanks to some of their recent moves. Let's now turn from run scoring to run prevention and check in on the teams that allowed the most runs in 2012. 
Seven teams — the Rockies, Indians, Twins, Red Sox, Astros, Blue Jays and Cubs — posted team ERAs of 4.50 or more this past season, and each club allowed at least 750 runs in total. We'll take a look at those bottom seven teams and see what they've done to improve their pitching and defense so far this offseason. Team name links go to a summary of the moves on MLBTR's Transaction Tracker and 2012 runs allowed totals are in parentheses. For reference, the average MLB team allowed 701 runs this past season.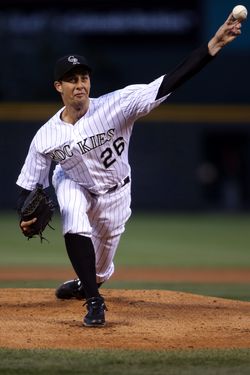 Rockies (890 runs allowed, 5.22 team ERA) – Jeff Francis, who led the 2012 Rockies with 113 innings pitched, re-signed on a one-year deal. Jorge De La Rosa exercised his player option and Colorado traded for reliever Wilton Lopez. Dan O'Dowd and Bill Geivett must do more to address their run prevention issues in the coming months, or they'll risk a similarly poor showing in 2013.
Indians (845 runs allowed, 4.78 team ERA) – The Indians started the offseason by exercising Ubaldo Jimenez's 2013 option, and they haven't stopped there. GM Chris Antonetti acquired pitching prospect Trevor Bauer from Arizona along with relievers Matt Albers and Bryan Shaw. They have since agreed to terms with Brett Myers, who projects as a starter in Cleveland.
Twins (832 runs allowed, 4.77 team ERA) – GM Terry Ryan has re-worked his team's pitching staff, trading for Alex Meyer and Vance Worley and signing Kevin Correia, Mike Pelfrey and Rich Harden. The Twins also re-signed a number of pitchers to minor league deals, creating depth. However, the Twins parted with Ben Revere and Denard Span to upgrade their pitching, which creates questions about Minnesota's outfield defense.
Red Sox (806 runs allowed, 4.70 team ERA) – The Red Sox upgraded their rotation by signing Ryan Dempster to a two-year contract. They've also addressed their bullpen, trading for Joel Hanrahan and signing Koji Uehara to a one-year contract. On defense, Shane Victorino will play right field, but defensive standout Jose Iglesias no longer projects as a starter and it looks as though Mike Napoli will replace the sure-handed combination of Adrian Gonzalez and James Loney at first base.
Astros (794 runs allowed, 4.56 team ERA) – The Astros have made some relatively low-profile changes to their pitching staff as they prepare for their first season in the American League. The club acquired Alex White for Wilton Lopez, claimed Philip Humber off of waivers, traded for John Ely, and signed reliever Jose Veras to a one-year deal. At this point it looks as though Houston will have trouble preventing runs again in 2013.
Blue Jays (784 runs allowed, 4.64 team ERA) – The Toronto front office overhauled a starting rotation that lacked depth in 2012. Defending Cy Young winner R.A. Dickey joins newcomers Josh Johnson and Mark Buehrle in a rotation that now looks like a strength instead of a major weakness. GM Alex Anthopoulos also traded for Esmil Rogers and added numerous others via waiver claims and minor league signings. The future of Darren Oliver still has to be determined, but other than that Toronto's pitching staff seems essentially set.
Cubs (759 runs allowed, 4.51 team ERA) -  The Cubs have upgraded their rotation in a meaningful way, adding Edwin Jackson, Scott Feldman, Carlos Villanueva and Scott Baker on free agent contracts. They also retained free agent Shawn Camp and signed right-hander Kyuji Fujikawa and left-hander Hisanori Takahashi. Chicago's pitching staff could be much stronger in 2013.
Photo courtesy of USA Today Sports Images.