The Oakland Athletics have made a habit of extending pre-arbitration eligible starting pitching in the last decade or so. General manager Billy Beane has negotiated multiyear deals with many players, from Tim Hudson and Barry Zito ten-plus years ago, to Rich Harden and Dan Haren midway through the last decade, to current A's starter Brett Anderson.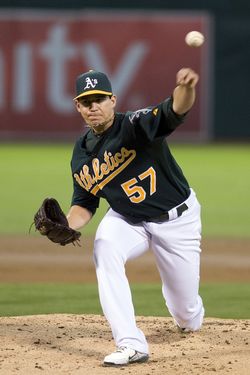 Here's the template Beane has used most often: offer a promising, young starter a four-year contract covering his remaining pre-arbitration years and some arbitration years. The deals, typically valued in the $9-13MM range, tend to include club options for future arbitration and/or free agent seasons. The A's take on the risk that the starters won't be able to replicate their early-career successes in exchange for potentially discounted arbitration seasons and extended control of the players. Meanwhile, the players get substantial security in exchange for capping their earning potential for a period of four-plus seasons.
Should the A's look to replicate past deals again this winter, the agents for Tommy Milone (pictured) and Jarrod Parker could soon be getting calls from Beane. Both starters were acquired in trades last offseason and both spent a full season at the MLB level for the first time in 2012, succeeding in prominent roles for the eventual AL West winners. 
Milone, a Praver/Shapiro client, pitched to a 3.74 ERA in 190 innings with Oakland in 2012. The 25-year-old left-hander struck out 6.5 batters per nine innings while walking 1.7 per nine and posting a 38.1% ground ball rate.
Parker, a 24-year-old Reynolds Sports Management client, posted a 3.47 ERA in 181 1/3 innings. A much harder thrower than Milone, Parker generated a few more strikeouts (6.9 K/9) and many more ground balls (44.3% ground ball rate) while allowing more walks (3.1 BB/9). 
Opposing hitters would tell you that the right-handed Parker is a different type of pitcher than Milone, and the two took markedly different paths on their way to the Oakland's rotation. Still, they're on track to be comparables in arbitration given their service time and basic statistics. In the context of extension talks that matters a great deal. Both pitchers are on track for arbitration eligibility after the 2014 season and free agency after the 2017 season.
As MLBTR's Extension Tracker shows, there's considerable precedent for contract extensions of four years or more for starting pitchers with between one and two years of MLB service. Anderson, Cory Luebke and Wade Davis all obtained $12-12.6MM for four-year deals that included multiple club options. Both A's starters have more innings pitched than Luebke did at the time of his deal and better ERAs than Davis did at the time of his deal. Furthermore, both Milone and Parker have more innings and a better ERA than Anderson did at the time of his deal. It appears that Milone and Parker could obtain four-year deals worth more than $12.6MM, especially when taking inflation into account. In my view $14MM would be a more reasonable target for four guaranteed years.
To this point in the offseason, there haven't been any rumors about the pair of A's starters. But January, February and March tend to be active months for contract extensions, and Beane has shown repeated interest in extending successful young starters on multiyear deals. It won't be surprising if the club discusses similar contracts with Milone and/or Parker in the coming months.
Photo courtesy of USA Today Sports Images.