It took a while, but the Red Sox have officially signed Mike Napoli. The sides have completed a one-year deal worth $5MM plus incentives. The Paragon Sports International client could earn up to $13MM in 2013.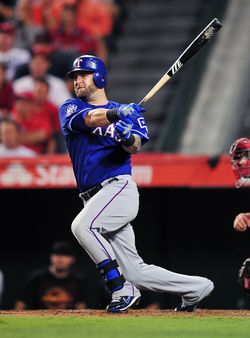 The sides had agreed to a three-year, $39MM contract earlier in the offseason, but the deal didn't go through as expected. Napoli has a hip issue that prompted the Red Sox to seek protective language in the deal.
However, the 31-year-old remained a top first base target for Boston throughout the process. Despite the hip issue, Napoli expects to be ready for Opening Day, according to Jon Heyman of CBSSports.com. Napoli drew interest from other teams after the initial delay in finalizing the agreement. Meanwhile, the Red Sox considered other options for first base such as Adam LaRoche and Michael Morse.
The Rangers had re-opened talks with Napoli, ESPN Dallas 103.3 FM's Ben Rogers reports. The Red Sox could offer more playing time, however, and he ended up agreeing to terms with Boston.
Napoli posted a .227/.343/.469 batting line in 2012, reaching the 20-home plateau for the fifth consecutive season with 24. The right-handed hitter made the All-Star team for the first time in his career, but missed time with a quadriceps injury. Ultimately Napoli fell short of the career-best numbers he posted in 2011: 30 home runs and a .320/.414/.631 batting line. The Red Sox project to rely on Napoli as their primary first baseman, but he did catch 72 games with Texas in 2012. 
Napoli ranked 14th on MLBTR's list of top 50 free agents entering the offseason. He wasn't linked to draft pick compensation, as the Rangers decided not to make him a qualifying offer.
Photo courtesy of USA Today Sports Images. Rob Bradford of WEEI.com first reported the agreement, and the value of the incentives. Jon Heyman of CBSSports.com first reported the value of the guarantee (Twitter links).