The Rays addressed long-term needs with a blockbuster trade and the most lucrative contract in franchise history. They addressed short term needs with modest forays into the free agent market.
Major League Signings
Luke Scott, UT: one year, $2.75MM.
Kyle Farnsworth, RP: one year, $1.25MM.
Kelly Johnson, 2B: one year, $2.45MM.
Roberto Hernandez, SP: one year, $3.25MM.
James Loney, 1B: one year, $2MM.
Joel Peralta, RP: two years, $6MM. Club Options for 2015, 2016 and 2017.
James Shields, SP: one year, $10.25MM. Club option exercised; later traded to Royals.
Fernando Rodney, RP: one year, $2.5MM. Club option exercised.
Jose Molina, C: one year, $1.8MM. Club option exercised.
Total Spend: $32.25MM.
Notable Minor League Signings
Trades and Claims
Extensions
Notable Losses
Carlos Pena, Brooks Conrad, Jeff Keppinger, Ben Francisco, B.J. Upton, J.P. Howell, Derek Dietrich, Elliot Johnson, Reid Brignac, Burke Badenhop, Chris Rearick.
Needs Addressed
When the offseason began, it was clear that the Rays could part with David Price or James Shields in the right trade, particularly if an elite prospect such as Wil Myers or Jurickson Profar were involved. Executive VP of baseball operations Andrew Friedman was able to obtain Myers, one of the game's best hitting prospects, for Shields, who's under team control through 2014. While Myers will almost certainly start the season in the minor leagues, he's expected to make an impact at the MLB level starting in 2013. From a value standpoint, six-plus years of Myers trumps two years of Shields, so it's clear why the Rays made this deal, which also included Wade Davis, Elliot Johnson, Jake Odorizzi, Mike Montgomery and Patrick Leonard. However, it's likely they'll miss Shields in 2013, as Myers transitions to the MLB level.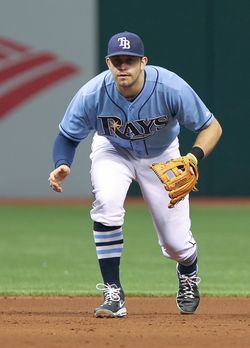 Evan Longoria was already under team control through 2016, so locking him up for additional seasons hardly seemed like a pressing need entering the winter. That didn't stop the Rays from adding six years and $100MM in guaranteed money to the deal, which extends their control over Longoria through 2023. There's risk with any nine-figure deal, especially when it's between a player who appeared in just 74 games in 2012 and a team that operates with one of the most modest budgets in MLB. That said, this extension pays Longoria less than $17MM per season — Andre Ethier territory rather than Joey Votto territory. For the Rays this was a risk worth taking.
The Rays lost a first baseman, a starting infielder and a center fielder this offseason, which led to a long offseason shopping list for Friedman. The Rays will ask Kelly Johnson and Yunel Escobar to do what they couldn't do for the 2012 Blue Jays: match their career norms on offense while providing steady middle infield defense. However, off-field questions accompany Escobar and Johnson's contact skills are in steady decline. 
The Rays addressed other short-term needs on the free agent market, signing James Loney, Luke Scott, Joel Peralta, Kyle Farnsworth, Roberto Hernandez and Jamey Wright. Loney and Scott don't figure to drastically alter the offense of a team that ranked 11th in the American League in scoring last year. Friedman's annual search for bullpen reinforcements turned up some familiar names and intriguing options. Hernandez figures prominently among the Rays' buy-low arms. The right-hander had an All-Star season as recently as 2010, back when he was known as Fausto Carmona.
Questions Remaining
The Rays won't have an imposing offense in 2013. It's a shortcoming, but one they're accustomed to dealing with. Jose Molina's pitch-framing skills, the versatility of Ben Zobrist and the depth of their pitching staff enable the Rays to prevent runs as well as any team (they allowed the fewest runs in MLB in 2012). As long as newcomers such as Escobar, Johnson and Loney contribute something on offense, the Rays should continue to outscore their opponents often enough to remain a threat in the AL East.
There's also the question of health. Longoria, the Rays' franchise player, has missed considerable time with injuries in 2011-12. And now that Shields and Davis are gone, there seems to be less room for error on the pitching staff.
Deal of Note
The Rays made a number of major moves this offseason, including the Myers-Shields trade and the Longoria extension. But in one respect, Joel Peralta's contract with Tampa Bay was the most noteworthy of all. 
Peralta's new two-year deal includes three — yes, three — club options. He becomes the first player with at least six years of service to sign a deal with three or more club options in seven offseasons. Peralta joins Tim Wakefield (Red Sox, 2002-03) and Preston Wilson (Astros, 2005-06) as the only players with six or more years of service to sign deals with at least three club options since 2000. 
The Rays have pursued club options on deals with young players in the past. Yet Peralta turns 37 next month, so this contract is out of the ordinary — even for the Rays.
Overview
Since their breakout 2008 season, the Rays have averaged 92 wins per season, reached the 90-win plateau in four of five seasons and made three postseason appearances. During that five-year period, we've learned not to bet against the Rays. This is far from a perfect team, though, and, as usual, the Rays enter the season with legitimate question marks on offense. Expect their run prevention to keep them in contention throughout the 2013 season.
Photo courtesy of USA Today Sports Images.