A player with a supposedly untradeable contract has been dealt for a second time, as the Yankees acquired outfielder Vernon Wells from the Angels on a salary dump deal.  The trade was announced officially today, and the Halos received a couple of token minor leaguers in outfielder Exicardo Cayones and lefty reliever Kramer Sneed.  The big benefit for the Angels was salary relief, as the Yankees will reportedly assume a surprising $13.9MM of the $42MM owed to Wells for 2013-14, of which they'll pay $11.5MM this year to avoid a luxury tax hit in 2014.  Wells was happy to waive his no-trade clause and escape a likely fate of being buried on the Angels' bench.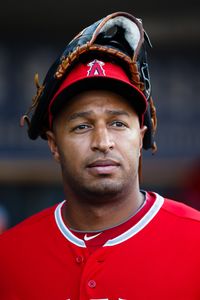 Wells, 34, was acquired to serve as the Yankees' everyday left fielder until Curtis Granderson returns to the lineup in May from a broken wrist.  Signed to a seven-year, $126MM extension by the Blue Jays in 2006, Wells posted a solid year in 2010 that allowed Toronto to unload most of his remaining $86MM on the Angels, which also cost the Halos Mike Napoli and cost GM Tony Reagins his job.  Wells performed terribly after the trade, hitting .222/.258/.409 in 791 plate appearances.  It was surprising to see the Yankees essentially give a two-year, $13.9MM contract to a player most teams would consider a fourth outfielder at best.  By comparison, the Cubs signed Scott Hairston this offseason for two years and $5MM.  The trade is a big win for Angels GM Jerry Dipoto, who unloads a player he didn't need and avoids the Competitive Balance Tax.
Cayones, 21, was acquired by the Yankees from the Pirates in the A.J. Burnett trade in February of last year, so he's again attached to a salary dump.  He hit .228/.374/.291 in 200 Low-A plate appearances last year, playing mostly right field.  Sneed, 24, posted a 5.37 ERA, 6.9 K/9, 5.7 BB/9, and 0.71 HR/9 in 63 2/3 High-A innings last year.  Neither is considered much of a prospect, which makes sense with the Yankees assuming so much of Wells' contract.
Yahoo's Jeff Passan first broke the story on Sunday, with Jim Bowden, Mike DiGiovanna, Alden Gonzalez, Jon Heyman, Buster Olney, Joel Sherman, and Mark Feinsand also contributing along the way.  Photo courtesy of USA Today Sports Images.