The Cubs were heavily involved in free agency, adding four starting pitchers as well as relief and outfield depth.
Major League Signings
Scott Hairston, OF: two years, $5MM.
Carlos Villanueva, P: two years, $10MM.
Edwin Jackson, SP: four years, $52MM.
Nate Schierholtz, OF: one year, $2.25MM.
Ian Stewart, 3B: one year, $2MM.
Scott Feldman, SP: one year, $6MM.
Shawn Camp, RP: one year, $1.35MM.
Dioner Navarro, C: one year, $1.75MM.
Scott Baker, SP: one year, $5.5MM.
Total Spend: $85.85MM.
International Signings
Armando Rivero, P: $3.1MM.
Chang-Yong Lim, RP: $5MM.
Kyuji Fujikawa, RP: two years, $9.5MM. $5.5MM Club option for 2015. 
Notable Minor League Signings
Trades and Claims
Notable Losses
Needs Addressed
Last year the Cubs gave a total of 54 starts to Chris Volstad, Justin Germano, Chris Rusin, Brooks Raley, Jason Berken, Randy Wells, and Casey Coleman.  With the injury to Matt Garza and trades of Ryan Dempster and Paul Maholm, a rotation that seemed decent at the start of the season was exposed for its lack of depth.  By signing four starting pitchers this offseason — almost an entire rotation — the Cubs are better-equipped to handle injuries and potential trades.  President Theo Epstein and GM Jed Hoyer committed $73.5MM to Jackson, Villanueva, Baker, and Feldman, and did not have to surrender a draft pick or young player in the process.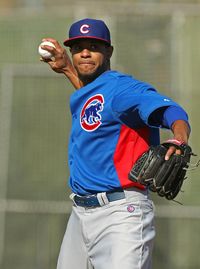 The Cubs ran parallel pursuits of my second and third-best free agent starters of the offseason, Jackson and Anibal Sanchez. From the team's point of view, both pitchers are young enough to help the next good Cubs team, and neither required surrendering their second round pick.  Ultimately the team landed Jackson, giving him the sixth-largest free agent contract of the offseason.  Before signing Jackson, they'd taken a run at a hurler who became my fourth-best available free agent, Dan Haren, then of the Angels.  Shipping walk-happy, $9.8MM closer Carlos Marmol to the Halos for Haren seemed like a big win for the Cubs, who balked over medical concerns.  If Haren does stay healthy and somewhat effective, the Cubs will be second-guessed for killing the trade.
Villanueva, 29, set a career-high last year with 125 1/3 big league innings for Toronto.  His 3.44 K/BB in 92 innings as a starter was promising, though he allowed 18 home runs in that span.  He'll be a useful swingman.  Feldman allowed 130 hits in 110 innings as a starter last year for Texas, though he seemed serviceable otherwise.  He pitches to contact generally, so the Cubs' infield defense will be put to the test.  Baker had Tommy John surgery in mid-April of last year, and I think the Cubs' expectations for the former Twin early in the season were low.  It's concerning that he's still experiencing elbow issues, however.  With Baker and Garza set to open the season on the DL, the Cubs will use Feldman, Villanueva, and Travis Wood from the outset.  If eventually all seven starters are healthy at once, that'll be a good problem to have.
Fujikawa landed a two-year deal to serve as Marmol's setup man, at least until the Cubs move Marmol or his contract expires.  I like the pickup.  Japanese relievers have had success in MLB, and Fujikawa was quite good with the Hanshin Tigers.  Camp was retained at a small salary, but the bullpen is still a weak spot for the Cubs.  International signing Armando Rivero could move quickly through the minors given his professional experience in Cuba, though Ben Badler of Baseball America says the pitcher has just "middle relief potential."  Like Fujikawa, Korean reliever Chang-Yong Lim is another successful NPB closer.  However, Lim is sidelined into 2014 due to Tommy John surgery.  The Cubs are clearly thinking short-term here, as the righty is 36.
The Cubs took an affordable platoon approach to right field, and it might work in terms of getting some pop out of the position.  Nate Schierholtz hit .270/.334/.440 against right-handers over the last three years, while Scott Hairston is at .263/.308/.464 against lefties.
The Cubs re-signed Stewart for $2MM, saving a little money versus tendering him a contract.  Stewart's wrist is finally better, but now he's nursing a quad injury.  His non-tender mostly closed the thread on the Cubs' December 2011 deal that sent Tyler Colvin and DJ LeMahieu to Colorado for Stewart and Casey Weathers.  At the time I sensed that Epstein and Hoyer moved Colvin without much regard because he wasn't one of their guys.  Elsewhere in free agency, the Cubs snagged Navarro on a big league deal to be their backup catcher, though he played only 24 games in the Majors last year.
Questions Remaining
With major question marks in the offense and bullpen, the Cubs don't seem to be making a big push to contend in 2014 despite their rotation expenditures.  They still seem much more likely to be sellers than buyers at the July trade deadline, stripping the team down again for another ugly finish.  Cubs fans seem fine with another punted season from the new front office, if it will bring long-term success.  I think fans will require a strong contender by 2015, after enduring an intentional two or three-year rebuilding project in a major market.
On a smaller level, the Cubs were unable to extend 2012 breakout starter Jeff Samardzija.  Samardzija is a Jim Hendry guy who worked out, but the new front office deserves credit for giving him a shot in the rotation.  In October I suggested a four-year, $27MM deal for Samardzija, similar to one signed by the Reds' Johnny Cueto in January 2011.  The Cubs did make a five-year offer, though the amount is unknown.  Another good year will likely send the price tag north of $50MM on a five-year deal.
Deal of Note
The Cubs' push for two of the better available starters this offseason was surprising.  They paid about market value for Jackson, which could net a profit if he improves.  The contract will make more sense to me if the Cubs aim to contend in 2014.  Otherwise, they won't get a lot out of the first half of the contract, when Jackson is closest to his prime.  A contract of this nature might have been a better move during the 2013-14 offseason, when the team will be presumably closer to winning.
Overview
Fourth place seems to be the best case scenario for the Cubs, who will probably remain more focused on acquiring young talent and could certainly finish last.  ESPN's Keith Law ranks their farm system fifth in baseball, while Baseball America had them 12th.  Epstein and Hoyer may sell off pieces one more time this summer, particularly Garza, Marmol, and Alfonso Soriano, and then it will be time to create a Major League winner.
Photo courtesy of USA Today Sports Images.