The Brewers waited until the eleventh hour to make a splash, but they made a significant upgrade to put themselves in the playoff mix.
Major League Signings
Notable Minor League Signings
Trades and Claims
Extensions
Notable Losses
Needs Addressed
After trading Zack Greinke last July and losing Shaun Marcum to free agency, the Brewers seemed content to head into 2013 without making a significant upgrade to the rotation.  However, Milwaukee decided to give Kyle Lohse a home last week by giving him a three-year, $33MM deal.  Aside from the money, the deal also means that the Brewers have to forfeit their No. 17 pick in the June draft.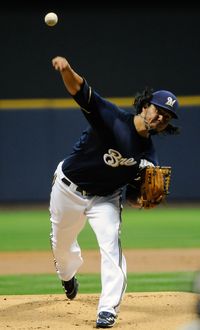 You can debate whether or not it was worth it for Milwaukee, but there's no denying that it makes them a better team to open the season.  Lohse joins Yovani Gallardo atop the rotation and their presence is especially important given the lack of experience on the rest of the staff.  Marco Estrada pitched to a 3.64 ERA with 9.3 K/9 and 1.9 BB/9 in 23 starts and six relief appearances in 2012 and the Brewers would love to see something similar this year, but he had just nine starts on his resume prior to last season.  They'll also be counting on Mike Fiers in the No. 5 spot after slotting Chris Narveson in the bullpen.
The Brewers' biggest need was their bullpen and they made major changes in an effort to turn things around.  First, Milwaukee traded Raul Mondesi Jr. to the Rays for right-hander Burke Badenhop.  Then, they picked up a pair of former Nationals in free agent left-handers Tom Gorzelanny and Mike Gonzalez. All three should help the Brewers' cause this season and they should improve upon their NL-worst 4.66 ERA from last season.  
Alex Gonzalez was picked up in February to provide an alternative to Jean Segura, but he'll be serving an even more important role to open the season.  With Corey Hart sidelined until mid-to-late May and Mat Gamel out for the season, Gonzalez will start the season as the club's first baseman.  Which leads us to..
Questions Remaining
The Brewers scored the most runs in the National League last season (third in the majors) but the Hart injury could hurt them depending on his recovery time.  Hart's slash line of .270/.334/.507 was a big reason for their offensive surge last season but they'll have to get by with Gonzalez in the interim, a player who hit .241/.270/.372 in his last full campaign.  It's cause for concern defensively as well.  Gonzalez has 13,207 2/3 innings of experience of at shortstop but exactly none at first base.  
The trio of Badenhop, Gorzelanny, and Gonzalez should improve the Brewers' bullpen but there are still plenty of question marks about their relievers.  John Axford took a major step back in 2012, posting a 4.67 ERA (versus a 2.26 ERA in the three years prior) with 12.1 K/9 and 5.1 BB/9.  They'll need better than that in 2013 to compete in the NL Central.
Deal of Note
In mid-March, the Brewers gave Carlos Gomez a three-year, $24MM extension that will keep him locked up through the 2016 season.  The deal buys out the first three years of Gomez's free agency and could prove to be a bargain for the club if he continues to progress and hit right-handed pitching.  It also came as something of a surprise since agent Scott Boras typically urges his players to test the market rather than sign an extension with a year to go before free agency.  The 27-year-old posted a .260/.305/.463 batting line in 452 plate appearances with a career high 19 homers as Milwaukee's everyday center fielder last season.  He also provides solid defense at the position, as his career 14.7 UZR/150 shows.
Overview
The Brewers finished the 2012 season in the middle of the pack with 83 wins – enough to claim a .500 record but not enough to play in October.  While things looked stagnant for much of the winter, the Lohse addition gives their starting rotation a boost that cannot be overstated.  As Tom Haudricourt of the Milwaukee Journal-Sentinel recently noted, Lohse has 331 career starts to his credit, which is more than the combined 270 starts that the originally planned rotation of Gallardo, Estrada, Wily Peralta, Narveson, and Fiers have made.  
On paper, Milwaukee's starting five should be strong enough to help reduce demand on their potent offense.  If the bullpen can climb out of the cellar, then the Brewers should find themselves in the playoff hunt this year.
Photo courtesy of USA Today Sports Images.