Pick one player from each of eight tiers and you've got a shot at part of the $400 prize pool in DraftStreet's latest MLBTR freeroll!  You've got nothing to lose by signing up and making your picks, as this game has no entry fee.  You'll be competing based on the stats your eight players accumulate in Friday's night games. 
My team is all about high ceiling offensive talent, with Ryan Braun, Bryce Harper, Joey Votto, Justin Upton, and Jay Bruce, among others.  Anybody have a better strategy going?  Check out the scoring categories in the rules section.  A screenshot of my roster: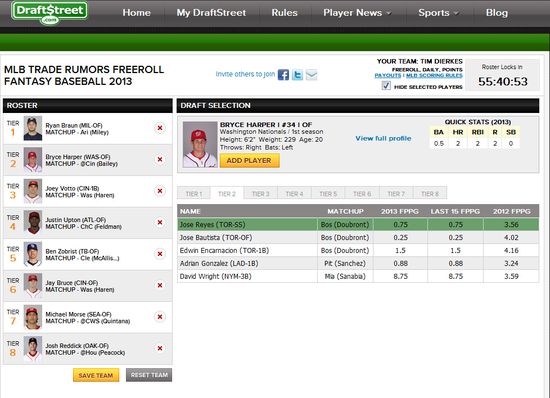 Take five minutes to make your picks for Friday's games, and you've got a shot at the $400 prize pool!  Registration closes at 6pm central time on Friday; day games are not included.  Draftstreet has a deposit promo that expires at 10:59pm central time on April 11th: they are offering a 30% deposit bonus of up to $150 (max bonus = $150). Simply enter the code MLB13 in the "Promo code" area when making your next deposit.  Please note that this post is a paid advertisement by DraftStreet.