Braves lefty Paul Maholm is off to an amazing start this season.  He's begun the season with 20 1/3 scoreless innings, striking out 20 and walking five.  The 30-year-old has nice timing — he's eligible for free agency after the season.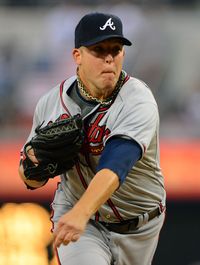 Maholm was a free agent once before, when the Pirates chose a $750K buyout over his $9.75MM club option after the 2011 season.  He was good that year, but his season ended in August due to a shoulder strain.  Not only did the Cubs get him on a one-year deal, but they were also able to tack on a club option.  That improved Maholm's trade value, and the Braves gave up a notable arm in Arodys Vizcaino to acquire him last July.  Maholm finished strong with Atlanta, improving his strikeout rate over his final 11 starts.  His $6.5MM club option was an easy decision to exercise last October.
Assuming the Braves do not extend Maholm during the season, they'll be faced with the question of whether to make a qualifying offer.  The qualifying offer process had its first run last offseason, and the Braves were one of seven teams to make one (to Michael Bourn).  That worked out well, and I think there's a good chance they'll make one to Maholm – even if the qualifying offer comes in near my projection of $14MM.  Maholm does not generally feel worthy of a one-year offer in the $14MM range, though Hiroki Kuroda did better than that last winter.  And while I don't know that Maholm's nice start in 2013 should change our perception of him, if he pitches at a 3.90 ERA from this point forward, his season ERA should come in below 3.50.  Plus, if some of the increased strikeout rate sticks, Maholm can shake the stigma of being a pitch-to-contact guy.
So if Maholm enters free agency at age 31, coming off a sub-3.50 ERA campaign, he'll be expecting a multiyear deal this time.  That means he should turn down the qualifying offer.  Kyle Lohse is the cautionary tale: he was coming off 399 1/3 innings of 3.11 ball over two seasons, and faced a slow market due in part to being attached to a draft pick.  But as many have pointed out, Lohse also entered the market with the standard Boras-inflated price tag, and teams shied away for that reason too.  Maholm and agent Bo McKinnis might consider Lohse's three-year, $33MM contract to be close to fair value.
Lohse's contract was the fourth-largest signed by a pitcher last offseason, and the biggest for one who received a qualifying offer.  Maholm will enter free agency as a 31-year-old, while Lohse was 34.  A fourth guaranteed year could prove elusive for Maholm if he turns down a qualifying offer.  Edwin Jackson and Anibal Sanchez were able to get it, but both pitchers were under 30 and did not require forfeiture of a draft pick.  Perhaps Maholm could at least top Lohse's $11MM average annual value.
The "best free agent starter" label goes a long way, however.  Just ask C.J. Wilson, a good, 31-year-old pitcher who received a five-year, $77.5MM deal after the 2011 season, with draft pick compensation attached.  There is a lot of baseball left to be played — most of it, actually — but if Maholm keeps rolling while Josh Johnson, Roy Halladay, and Tim Lincecum remain inconsistent, the Braves lefty is a dark horse candidate for the title of best free agent starter.
Photo courtesy of USA Today Sports Images.