The Giants won the World Series in 2012 thanks to a solid core, some savvy trades and a mammoth performance from Buster Posey. However, a number of their players were set to hit free agency.
Major League Signings
Notable Minor League Signings
Trades and Claims
Extensions
Buster Posey, C: eight years, $159MM. $22MM Club option for 2022.
Santiago Casilla, RP: three years, $15MM. Vesting option for 2016.
Notable Losses
Needs Addressed
General manager Brian Sabean clearly placed an emphasis on retaining the group that won the Giants' second World Series title in two years. That line of thinking is exemplified by the Spring Training blockbuster (no pun intended) extension for Buster Posey. The 2012 NL MVP signed an eight-year, $159MM contract that will keep him in San Francisco through his age-36 season.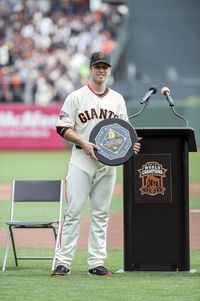 As is the case with any eight-year deal, the contract carries with it significant risk. The Giants undoubtedly believe that Posey is capable of sustaining his 2012 production and chose to lock him up now rather than next offseason, when he'd have a chance at breaking Joe Mauer's record for catcher contracts. Posey and Matt Cain have become the faces of the franchise, and Sabean spent to ensure the pair's best years come in black and orange.
Angel Pagan, Marco Scutaro, Jeremy Affeldt and Melky Cabrera each also played large roles in the Giants' 2012 success, but all four entered the offseason eligible for free agency. 
Pagan's four-year, $40MM contract is a risk for a speed-oriented player entering his 30s, but his play over the past four seasons justifies the spend. Even if he regresses in the final year of the contract, he should be able to at least live up to — if not exceed — its value.
On the other hand, Sabean paid a steep price for to retain Scutaro and Affeldt. Scutaro looked like a replacement-level player prior to his trade to the Giants, and it's fair to assume he won't repeat the gaudy .366 BABIP that followed. Affeldt has proven to be a strong setup man, but paying top-of-the-market value for the age 34-36 seasons of a reliever with declining velocity is questionable at best.
Sabean doubled-down on that thinking by giving Santiago Casilla a three-year, $15MM extension. Casilla is younger than Affeldt but comes with some command issues. Paying $11MM per season for a pair of mid-30s setup men strikes me as an unnecessary risk.
The signing of Andres Torres brings back a veteran with excellent defensive skills that helped the Giants to a World Series title in 2010. The $2MM price tag is more than reasonable and gives manager Bruce Bochy a number of strong defenders in Torres, Pagan and Gregor Blanco. The importance of that defensive prowess in the outfield can't be understated, given the amount of ground that needs to be covered at AT&T Park.
Questions Remaining
Cain, Bumgarner and Ryan Vogelsong combine to form a strong 1-2-3 punch atop the rotation, but Tim Lincecum's struggles have persisted into the 2013 season. "The Freak" has lost nearly four miles per hour off his fastball from his first Cy Young campaign, and his command problems are even more concerning than the velocity drop. At this point, I have to imagine that the they'd be thrilled to get 175 league-average innings out of the former ace, but that's looking more and more unlikely.
Barry Zito was dominant on Wednesday, but there's the feeling that a meltdown is always around the corner with the soft-tosser. Starting pitching could become a big area of need for this team and cause fans to look back at the Zack Wheeler-for-Carlos Beltran swap of 2011 with heavy hearts.
Shortstop and first base are both areas of concern as well. Defensively proficient as he is, Brandon Crawford offers little with the bat. This is a big year for Brandon Belt, as he'll need to prove that he's a capable bat that can help a team lacking in power bats. Midseason acquisition Hunter Pence will also need to rebound after hitting a mere .219/.287/.384 for the Giants down the stretch and .210/.231/.290 in the playoffs.
Should the offense flounder, I imagine the Giants will be in on names like Josh Willingham, Justin Morneau and whatever other corner bats emerge on the trade market.
Deal of Note
Brian Wilson has long been a fixture in Giants culture, but the team faced a tough decision on him this offseason. "The Beard" underwent Tommy John surgery after making just two appearances last season, and the Giants wisely chose not to tender him a contract and pay him at least $6.8MM in 2013.
The Giants had interest in bringing Wilson back on a minor league deal, but he preferred to seek out a Major League opportunity. After failing to impress the Mets in a January audition, Wilson has decided to wait until he's 100 percent healthy before auditioning for teams again.
Back in October, Wilson stated that if the Giants "paid me to be me, I will be." The decision not to meet that asking price or even offer a smaller Major League deal months later has proven to be wise, but it was likely a difficult decision for Sabean and his staff to make.
Overview
The Giants have a strong, albeit top-heavy rotation backed by a solid bullpen. If they can receive league-average innings from Lincecum and/or Zito, they'll be in the mix until the end. As has become the norm in San Francisco, the offense doesn't look overpowering, but the middle of the lineup is strong. The new-look Dodgers and Diamondbacks pose threats, but San Francisco looks poised for another playoff push.
Photo courtesy of USA Today Sports Images.