The Rays have made a name for themselves as a club that gets the most out of limited resources. So, when they commit $100MM, as they did with Evan Longoria's six-year extension in November, it's not too surprising to see Longoria himself refer to the figure as "an insane number." The 23rd most lucrative extension in baseball history dwarfs the three-year, $28.5MM extension Tampa Bay gave Scott Kazmir in 2008, the team's second highest entry on that all-time list. The money also clearly establishes Longoria as the focal point for a team that faces uncertainty about whether it will make a similar commitment to David Price.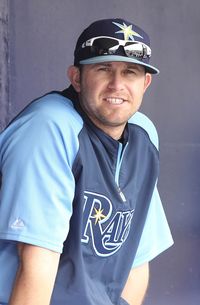 "Keeping David is the hot topic," outfielder Sam Fuld told MLBTR. "Everybody's aware that we do have the ability to keep him long-term, but it's just a cost-benefit analysis of whether it's worth doling out X amount of money for David and then having fewer dollars to spend on other guys."
Ben Zobrist, who signed a four-year, $18MM extension in 2010, doesn't subscribe to the idea that one high-dollar move necessarily precludes another. He, like Fuld and several other players who spoke to MLBTR this spring, ultimately views Longoria's extension as a positive. Zobrist doesn't think Rays management gave too much thought to Price when they were negotiating the deal for Longoria.
"Shoot, I don't think that that's what they were sitting around doing," he said. "Like, hey, let's do this, and not do this. I think they're taking it one step at a time. With what we've got right now, and what our team's looking like this year, our goal is to win a World Championship this year. They've got to make the best decisions they feel for our organization for this year and beyond. Evan was the step that they were able to make in the offseason, and I'm sure they're trying to do more."
Principal owner Stuart Sternberg told reporters last month that the team can "absolutely" re-sign Price, but he questioned what the Rays could afford to put around the left-hander if they did. Infielder Sean Rodriguez echoed those sentiments, and believes Longoria's deal is a sign of the team's financial mettle.
"When you see somebody that you're willing to spend the money on and you want to use, whether it's as the face of the franchise or what not, it says, yeah, we're willing to spend the money if it's somebody who's going to contribute back to the team and we know it's going to be beneficial for us to keep long term. Then we'll do it," Rodriguez said. "That's what they did with Longo. Hopefully they do that with 14 (Price)."
Even if it doesn't break the bank, Longoria's deal comes with significant risks. Chief among them might be his durability after a partially torn left hamstring limited him to 74 games last season. Longoria will turn 37 in the final guaranteed year of the extension, and conventional wisdom suggests he'll become increasingly injury prone as he ages. Manager Joe Maddon isn't worried, though, based on his view that many players become less susceptible to nagging injuries over time as they continue to refine their workout programs and become further accustomed to the daily grind of the major league schedule. The manager also expressed his belief that a lavish contract doesn't change a player's approach, citing his five-category system for describing the attitudes of major league players. 
"For the most part, I think it just truly puts them into that category five player — all I want to do is win," Maddon said. "They've gone through the other stages of this game and now they can really focus on one thing. The attempt to make a lot of money is gone, and now it's just about winning only. I think that's what happens most of the time. You get past, 'I belong here and now I want to make some dough,' and they do. Now when they show up at the ballpark there's only one agenda: winning the World Series."
Maddon praised Longoria for the way he's handled the extension, one in which he's solidified his status as a team leader without fostering envy in a clubhouse otherwise filled with players on much cheaper deals. It's apparent that there's no undercurrent of jealousy among his teammates.
"He's one of the best players in the game; he deserves what he got," right-hander Jeremy Hellickson said. "We're happy for him, and it doesn't really affect us too much."
Pitchers Alex Cobb and Jeff Niemann said they take comfort in knowing Longoria, who led all major league third basemen in UZR in his last full season, will be at the hot corner for years to come. Hitters said they also see a benefit when a star like Longoria signs for the long haul.
"It's great; it's refreshing to see a guy who just really cares about the franchise, and that's sort of a rarity these days," Fuld said. "It's kind of uplifting to everybody else. It really helps us buy into the team idea, because given the trades, releases and uncertainty of the game, it's difficult sometimes to look at the team aspect of things. It's easy to individualize things and just worry about yourself, but when somebody makes what some would term a sacrifice, it really puts a lot in perspective and allows us to focus on the team."
Photo courtesy of USA Today Sports Images.