The Mariners added rotation depth today, offically acquiring veteran Aaron Harang and cash from the Rockies for minor league reliever Steven Hensley.  The Mariners also announced they've designated Kameron Loe for assignment to open a 40-man roster spot for Harang.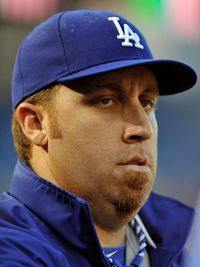 The Rockies acquired Harang and $4.25MM from the Dodgers for catcher Ramon Hernandez last week, and then immediately designated Harang for assignment.  Harang earns $7MM this year and has a $2MM buyout after the season, and the Rockies will send money to the Mariners to cover most of that.  The Rockies will save more than $2MM with the series of trades, tweets Ken Rosenthal of FOX Sports.
Harang, 35 next month, posted a 3.61 ERA, 6.6 K/9, 4.3 BB/9, 0.70 HR/9, and 38.6% groundball rate in 179 2/3 innings for the Dodgers last year.  His peripheral stats from 2012 suggest an ERA close to 5.00.  This isn't the Harang of his Reds glory days, when he pitched 230 innings a year with around four strikeouts for every walk.  Harang will likely replace Blake Beavan in Seattle's rotation.  Hensley, 26, posted a 6.27 ERA, 5.3 K/9, 4.8 BB/9, and 1.21 HR/9 in 37 1/3 Triple-A innings last year.
Loe, 31, signed a minor league deal with the Mariners in February but allowed six home runs in 6 2/3 innings to start his season.
The Mariners and Rockies last matched up on a trade in December 2010, when Colorado acquired Jose Lopez for Chaz Roe.  More recently, a pitcher jumped from the Mariners to the Rockies when Jon Garland exercised his opt-out clause to leave the Mariners in March and signed with Colorado.
Ken Rosenthal of FOX Sports first reported the trade was close.  Photo courtesy of USA Today Sports Images.