29-year-old righty Carlos Villanueva has kicked off his Cubs career with three quality starts.  That's been a big part of the team's 3.11 rotation ERA, third-best in the National League.  The Cubs, however, have failed in most other aspects of the game and are already six games back in the NL Central with a 5-13 record.  Once again, the team's veterans need to be ready for the possibility of a summer trade.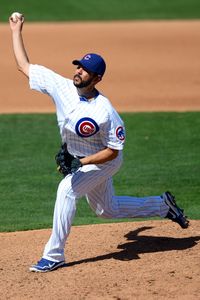 Because of his age and some decent rotation work for the Blue Jays last year, Villanueva was able to find a two-year, $10MM deal with the Cubs in December.  The Cubs had already signed Scott Baker and Scott Feldman at that point, and went on to add Edwin Jackson.  That's a whopping four free agent starters, but the depth has been necessary so far with Baker and Matt Garza on the shelf.  Garza's first minor league rehab start is scheduled for tomorrow, so he's projected to return in May.  Baker will be out until at least June, after undergoing Tommy John surgery a year ago.  Even with the uncertainty surrounding Baker, the Cubs have assembled significantly more rotation depth than they had last July, when they traded Paul Maholm and Ryan Dempster.  
So, there's a chance the Cubs move two starting pitchers again this summer.  With free agency looming, Garza is a prime candidate.  If he stays healthy and reasonably effective, Villanueva is another.  Though he has one of the slower fastballs you'll see from a right-handed starter, Villanueva has been effective since joining the Jays' rotation in late June of last year.  Since then he's started 19 games, with a 3.90 ERA, 8.0 K/9, 2.3 BB/9, and 1.67 HR/9 in 113 innings.  Some of his numbers in his brief Cubs career are unsustainable, but if Villanueva's walk and groundball rates stick, he should have continued success.  In particular, he shouldn't be quite so homer-prone moving forward.
Perhaps they underestimated Maholm at the time, but the Cubs were still able to acquire a top-90 prospect from the Braves in Arodys Vizcaino last summer.  Like Maholm, the Cubs can offer an additional full season of Villanueva's services, making him more than just a rental.  The Indians, Angels, and Phillies are a few early potential matches, should those teams remain on the fringe of contention.  Should the longball remain an issue for Villanueva, though, it could cause teams with hitters' parks to shy away.
Photo courtesy of USA Today Sports Images.