Starling Marte has arguably been the biggest key to the Pirates' 21-16 start, and at 24, the outfielder looks like an emerging star. This weekend on Twitter, Pirates bloggers and the Pittsburgh Tribune-Review's Travis Sawchik discussed the merits of a possible contract extension for Marte. Given Marte's skimpy big-league track record — he has just 341 career plate appearances — a long-term deal might seem a bit ambitious right now. But if Marte's productivity continues, the Pirates will surely consider offering an extension at some point, and there may be a case for offering one sooner rather than later.
According to MLBTR's Extension Tracker, there have been only three recent extensions for players with less than one year of service time: the Royals' 2012 pact with Salvador Perez, and the Rays' deals with Matt Moore in 2011 and Evan Longoria in 2008. All three contracts included three team options, and all gave their teams the rights to multiple free agent years.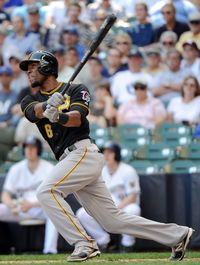 There would be little point to the Pirates signing Marte to an extension without such team-friendly terms, since a good portion of Marte's value will likely come from his superior defense and baserunning, which aren't likely to win him huge arbitration salaries. Whether he'll continue to post gaudy offensive numbers is less certain. Marte could still be very productive without big counting stats, but without them, he isn't likely to make huge sums in arbitration.
Therefore, from the Pirates' perspective, the point of an extension would be to buy the rights to some of Marte's free agent years while ensuring that the prices of his arbitration-eligible seasons remain low. Any multi-year contract would set Marte for life, and Marte only received an $85K bonus as an amateur, so there would be reason for the Legacy Agency client to consider a deal, even at terms somewhat favorable to the Pirates.
Projecting what Marte might make in arbitration is just about impossible this early in his career. His current line of .336/.399/.517 is likely unsustainable, due to a .422 BABIP. But his speed and minor-league history (he batted .312 in his minor-league career) make him a good bet to continue hitting for average. Scouts also like his power potential. His Achilles heel, if he has one, will likely be his lack of plate discipline — he has just 15 walks in 341 career plate appearances. Even if he struggles as National League pitchers begin to adjust to his tendency to swing at pitches outside the zone, he should provide plenty of value with his defense, but his career could still range anywhere from "superstar" to "Jeff Francoeur."
Nonetheless, an extension is a risk that the Pirates probably ought to consider. A speculative extension for a largely-unproven player has downside, as the Bucs are finding with their six-year, $15MM deal for now-fourth outfielder Jose Tabata. But it's difficult for the Pirates to find stars through other means, so it behooves them to lock up their best young players early and cheaply. It's no accident that the Royals and Rays, whose payrolls are typically somewhat similar to those of the Pirates, are the teams experimenting with early-career contracts for Perez, Longoria and Moore.
Perhaps the best precedent for a Marte extension, though, would be the Twins' five-year, $16.5MM deal with Denard Span. Span doesn't have Marte's power, but like Marte, he generates plenty of value through defense and baserunning. The Twins signed Span before the 2010 season, when he had one year and 111 days of service time. A five-year deal that begins in 2014, when Marte himself will be between one and two years of service time, would put Marte on a similar track. Marte's potential for big arbitration payouts might actually be somewhat higher than Span's, due to Marte's power, so a slightly higher dollar figure might be in order. Span's contract has one option year; the Pirates could attempt to wrangle at least one additional option year from Marte to help compensate for the risk of signing him so early in his career.
Photo courtesy of USA Today Sports Images.