It's never fun to punt a season, as the Marlins decided to do before the 2013 campaign began.  But one silver lining is the ability to offer more opportunity to minor league free agents.  29-year-old righty Kevin Slowey is one such example, and he's rewarded the team with a 1.81 ERA through seven starts after joining the organization on a minor league deal.  He was a contributing member of the Twins' rotation as recently as 2010 despite missing time with an elbow and triceps injury, but then things took a turn.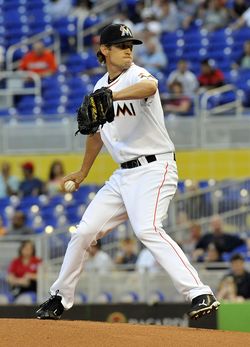 Slowey failed to make the Twins' rotation out of camp in 2011, and then quickly hit the DL with a shoulder strain.  After returning from that, he missed time with an abdomen strain, expressed displeasure with working as a reliever, and pitched in the minors before finally rejoining the rotation in August of that year.  With a non-tender looming, Slowey was shipped to Colorado during the offseason, and then traded to the Indians shortly thereafter.  He was unable to crack the Indians rotation out of camp in 2012, and missed most of the season with a stress fracture in his rib cage.  He was removed from the Indians' 40-man roster in October, pitched in the Dominican Winter League, and signed a minor league deal with the Marlins in January of this year.  This time Slowey did win a rotation spot out of Spring Training, which was further solidified with injuries to Henderson Alvarez and Nate Eovaldi.
After seven starts this year, Slowey ranks sixth in the National League with a 1.81 ERA.  His control has always been stellar, leading to a seventh-ranked 4.5 K/BB ratio so far.  Though he's never averaged six innings per start in a season, Slowey is at nearly 6.4 this year.  Aside from his injury history, the biggest concern with Slowey is his flyball tendency.  His 32.3% groundball rate is the fourth-lowest in all of baseball, and he's benefited from one of the least homer-happy ballparks in the game (though he's pitched well in all three starts on the road).
The Marlins are playing .300 baseball, so why shouldn't they move Slowey?  One reason is that he'll be arbitration eligible after this season, and therefore under team control for 2014.  Given his $750K salary – barely above the league minimum – trading Slowey now would not be a cost-cutting move.  It'd simply be a way of cashing in a 29-year-old off to a hot start for at least one credible prospect.  Slowey has his flaws, but he'd fit well with teams like the Giants or Pirates come the July trade deadline.
Photo courtesy of USA Today Sports Images.