The Dodgers have signed first-rounder Chris Anderson for a signing bonus of $2,109,900, according to Jim Callis of Baseball America (on Twitter). The Jacksonville University right-hander is advised by ACES. Anderson's bonus matches the assigned pick value (per Baseball America) for the No. 18 selection exactly.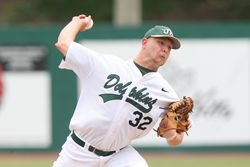 Anderson, who turns 21 late next month, ranked as the draft's 16th-best prospect according to MLB.com's Jonathan Mayo, the 25th-best prospect per ESPN's Keith Law and the 45th-best in the eyes of Baseball America. Prior to the draft, Mayo wrote that Anderson, whose fastball touches 97 mph, may have boosted his stock more than any arm in this year's college class. Law notes that he faded down the stretch, perhaps due to over-usage, but has the potential for two plus pitches.
Anderson is the second college pitcher selected by the Dodgers in the past three drafts, as they also selected Stanford left-hander Chris Reed back in 2011 with the No. 16 overall pick. Both Anderson and second-round pick Tom Windle are Minnesota natives. Windle, a left-hander who attended the University of Minnesota, agreed to terms with Los Angeles last week. Anderson's deal means that there are now seven first-round picks who have signed just six days after the draft.
Photo courtesy of Jacksonville University.