The number one overall draft pick of 2011 is set to make his Major League debut next week.  Gerrit Cole will start for the Pirates Tuesday night as they host Tim Lincecum and the Giants, announced the team.  Cole had been the rumored favorite to fill in for the injured Wandy Rodriguez in that slot.  With nearly 40% of the season in the books, the Pirates are riding high at a 36-25 record, tied for second in the NL Central.  They're bidding to reach .500 for the first time since 1992, but more importantly, the Bucs are fighting for a playoff spot.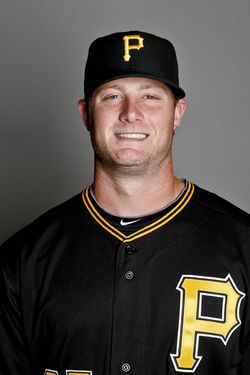 Cole, 22, was drafted 28th overall out of high school by the Yankees in 2008.  He chose not to sign or even negotiate, and his stock had risen when the Pirates drafted him first overall out of UCLA in '11 and gave him an $8MM bonus.  Five other 2011 first-rounders have appeared in the Majors: Jose Fernandez of the Marlins, Dylan Bundy of the Orioles, Trevor Bauer of the Indians, Anthony Rendon of the Nationals, and Jackie Bradley Jr. of the Red Sox.  Fernandez, drafted 14th overall with little fanfare, has been the best so far with 67 strikeouts and a 3.17 ERA in 65 1/3 innings this year.
Cole made 12 starts at Triple-A this year, posting a 2.91 ERA, 6.2 K/9, 3.7 BB/9, and 0.53 HR/9 in 68 innings.  He's allowed two runs in his last 20 1/3 innings.  Cole's overall walk rate is fairly high, mainly due to a three-start stretch in April during which he surrendered 13 free passes in 17 2/3 frames.  He also hasn't missed as many bats as you'd expect.  Prior to the season, Cole was ranked eighth (ESPN's Keith Law), seventh (Baseball America), and eighth (MLB.com) on various top 100 prospect lists.  He sits at 96-98 miles per hour with a well-regarded slider and a decent changeup. 
If he stays up from June 11th forward, Cole stands to accumulate 111 days of Major League service time this year.  We haven't yet seen a Super Two cutoff that low, though it has been suggested that 2.119 will do the trick after this season.  That number is lower than usual because more Super Two players were added in the most recent collective bargaining agreement, as it's now the top 22% of the two-to-three service class.  Bottom line: it's possible, but not likely, that Cole will be eligible for arbitration after the 2015 season if he stays up from this point forward.  Regardless, the Pirates will control this young gun through 2019.
Photo courtesy of USA Today Sports Images.