The Rockies signed first-round pick Jonathan Gray to a $4.8MM deal, tweets Jim Callis of Baseball America.  The right-hander's deal is about $826K less than the suggested slot value for the No. 3 overall pick, according to BA's list of the assigned pick values for the first ten rounds.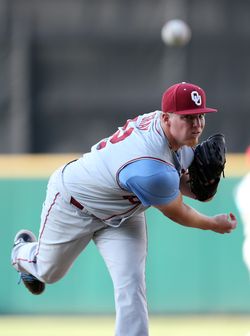 He is advised by BBI Sports Group.
Gray, who comes out of Oklahoma University's program was the top-ranked talent in the draft according to Baseball America, second according to MLB.com's Jonathan Mayo and third according to ESPN's Keith Law.  Gray was widely projected as either the No. 1 or No. 2 pick in the draft but fell to third when the Cubs threw everyone a minor curveball and drafted Kris Bryant. 
The 6'4", 245-pounder spent the season as the Sooners' Friday starter, flashing a fastball that hit triple digits and showing the ability to maintain that velocity deep into his outings.  His slider is considered by BA, Mayo and Law to be a plus pitch as well.
Gray was the source of some minor controversy just days before the draft when it was reported that he tested positive for Adderall.  There was some speculation at the time that the failed test could cause his bonus demands to drop, though it's not clear if that test is the reason he signed an under-slot deal. Cubs scouting director Jason McLeod said after the draft that the test didn't play a role in their decision to select Bryant over Gray.  With this agreement, Gray becomes the 10th first-round selection from this year's draft class to sign.
Troy Renck of the Denver Post (Twitter links) reported earlier today that Gray was nearing agreement on a deal with Colorado.
Steve Adams contributed to this post. Photo courtesy of USA Today Sports Images.