The first domino of trade season has dropped, as the Orioles acquired righty Scott Feldman and catcher Steve Clevenger from the Cubs today for righty Jake Arrieta, reliever Pedro Strop, and international bonus pool money, according ESPN's Keith Law.  The Orioles sent international bonus slots 3 and 4 to the Cubs, according to the team.  That amounts to an additional $388,100 for the Cubs, who started with an international bonus pool of $4,557,200 and picked up another $784,700 from the Astros while sending $209,700 to the Dodgers.  This is the first MLB trade involving international bonus pool money.  After being involved in three international bonus pool-related trades today, the Cubs added $963,100 to their pool.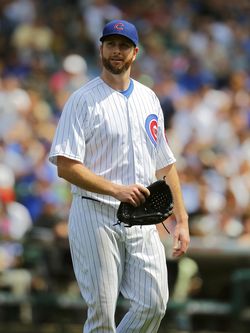 The Cubs signed Feldman, 30, to a one-year, $6MM deal in November.  He was a prime candidate to be flipped by the 35-45 Cubs, since a qualifying offer in the $14MM range would likely have been too steep after the season.  He's now ineligible for such an offer.  Feldman owns a 3.46 ERA, 6.6 K/9, 2.5 BB/9, 0.99 HR/9, and 50.7% groundball rate in 91 innings this year.  "Feldman is a proven starter with postseason experience who should help stabilize our rotation for the second half," Orioles executive vice president of baseball operations Dan Duquette said in a statement.  Those nine postseason relief appearances came in 2011 with the Rangers, Feldman's organization since being drafted in '03 prior to signing with the Cubs.  He joins an Orioles rotation that ranks 13th in the American League with a 4.79 ERA and currently features Jason Hammel, Miguel Gonzalez, Chris Tillman, and, when healthy, Wei-Yin Chen.  Duquette told reporters including MLB.com's Brittany Ghiroli that he doesn't see any more outside moves.
Arrieta, 27, was due for a change of scenery.  The Orioles drafted him out of Texas Christian University in the fifth round in 2007, and he never realized the promise that had him ranked as the 67th best prospect in baseball by Baseball America prior to the '09 season.  In 358 innings in his Orioles career spanning 2010-13, Arrieta posted a 5.46 ERA, 7.0 K/9, 4.0 BB/9, and 1.21 HR/9.  A strong Spring Training this year netted him the Orioles' fourth starter job, but he was demoted to Triple-A by late April.  After shaking off shoulder tenderness, he has bounced up and down since.  Arrieta's last two Triple-A outings, presumably scouted by the Cubs, have gone well.  He works around 95 miles per hour and BA once said he had the potential for three plus pitches, so the Cubs have an interesting arm with which to work.  He'll head to Triple-A Iowa for the Cubs.  Arrieta currently has two years and 99 days of Major League service time, so he needs 53 days to be eligible for Super Two status after the season and 73 to be eligible for free agency after 2016 rather than '17.
Strop, 28, will join the Cubs' big league bullpen.  His poor control caught up to him this year, as he has a 7.25 ERA, 9.7 K/9, 6.0 BB/9, 1.61 HR/9, and 48.4% groundball rate in 22 1/3 innings.  He hit the DL in late May with a lower back strain, returning June 8th.  Strop was signed out of the Dominican Republic by the Rockies in '02, and signed with the Rangers after being released in '08.  He made his big league debut with Texas, later joining the Orioles in 2011 to complete the Mike Gonzalez deal.  Strop works around 96 miles per hour, so the Cubs received a pair of power arm projects in this trade.
Clevenger, 27, was born and raised in Baltimore, and his agent told Jon Heyman of CBS Sports the trade is "almost a dream come true."  He'll head to Triple-A Norfolk for now.  He hit .327/.426/.596 in his short time with the Cubs' Triple-A team this year, spending time on the 60-day DL with an oblique strain.  He made the Cubs' Opening Day roster but suffered the injury in mid-April.  Chris Cotillo of MLB Daily Dish first reported that Clevenger appeared to be on the move. 
Tim Dierkes contributed to this post.  Photo courtesy of USA Today Sports Images.