In a swap of relievers who had been designated for assignment, the Cubs announced they have acquired Matt Guerrier from the Dodgers for Carlos Marmol and Chicago's fourth international signing bonus slot.  That slot is worth $209,700 in pool money, announced the Dodgers, who had a pool of $2,112,900.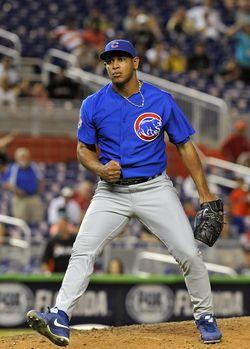 Of Marmol's $9.8MM salary this year, about $4.8MM remains.  The Cubs will pay nearly $2MM of his salary, tweets Yahoo's Tim Brown, plus the aforementioned pool money.  Guerrier earns $3.75MM this year (plus a $750K installment of his signing bonus) in the final season of his three-year deal with Los Angeles. He has about $2.34MM remaining, so the Cubs will only save about $500K in the deal, as noted by Dylan Hernandez of the L.A. Times (on Twitter).
ESPN's Jayson Stark adds that if the Dodgers end up releasing Marmol and he signs with another team, the Cubs will need to send additional money to the Dodgers (Twitter link).
Marmol had become a symbol for the Cubs' struggles this year, with a 5.86 ERA, 6.8 BB/9, and 1.95 HR/9 in 27 2/3 innings.  He began the season as the team's closer, apparently as a way of building trade value, but lost the job after allowing five runs in his first three outings.  Marmol, a converted catcher/outfielder, joined the team's bullpen in 2007, snagged an All-Star nod in '08, and ascended to the Cubs' closing job late in 2009.  He peaked in 2010, striking out nearly 42% of batters faced while racking up 38 saves.  That season earned him a three-year, $20MM extension in February 2011.  Marmol had always had major problems with walks, and now the team has finally moved him in a bad contract swap.  During November of last year, it seemed like Marmol was headed to the Angels for Dan Haren before the Cubs pulled the plug and the Halos declined Haren's club option. 
The Dodgers will send Marmol to the minors for a few outings, notes ESPN's Keith Law.  The Dodgers are second-to-last in bullpen ERA in the NL, with a 4.39 mark.  The club is eight games out in the wild card; should they pull closer to contention perhaps they'll acquire a more stable reliever.
Guerrier, 34, posted a 4.80 ERA, 6.3 K/9, 3.6 BB/9, 0.90 HR/9, and 42.6% groundball rate in 30 innings for the Dodgers this year before being designated for assignment.  The Dodgers signed him to a three-year, $12MM deal in December 2010, with that third year serving as the kicker.  The Cubs also added Pedro Strop to their bullpen earlier today; they may yet ship closer Kevin Gregg to a contender.
Steve Adams contributed to this post.