The first-place Tigers augmented their bullpen, at a time the back end finally seemed to have stabilized.  Detroit acquired reliever Jose Veras today from the Astros for outfield prospect Danry Vasquez and a player to be named later, which will be decided on or before September 15th.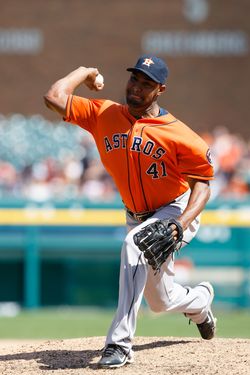 Veras, 32, has successfully served as the Astros' closer this year after signing a one-year, $2MM free agent deal in December.  In a big benefit to his trade value, Veras' contract includes a $3.25MM club option for 2014.  "We are pleased to add an experienced arm to our bullpen," Tigers' president, CEO, and GM Dave Dombrowski said in a statement.   "Jose can pitch in a variety of roles, provides depth in the bullpen, and complements the roles of Joaquin Benoit and Drew Smyly."  Veras has a 2.93 ERA, 9.2 K/9, 2.9 BB/9, 0.84 HR/9, and 45.3% groundball rate in 43 innings this year.  He's always thrown hard and racked up strikeouts, but this year he's been able to trim his walk rate significantly.  In November, the Brewers outrighted Veras rather than retain his rights for 2013 through the arbitration process.
The Tigers add Veras at a time their larger bullpen concerns seemed behind them.  They entered the season with uncertainty at closer, and re-signed Jose Valverde to a minor league deal in April.  Valverde saved nine games for the club, but was removed from the closer role in late June and ultimately replaced by Benoit.
Vasquez "adds to an already formidable group of prospects at the A ball level," Astros GM Jeff Luhnow said in a statement.  The 19-year-old left fielder was hitting .281/.333/.390 in his second stint for the Tigers' Low-A club.  Prior to the season, Baseball America ranked Vasquez sixth among Tigers prospects, noting that the offensive-minded Venezuelan "projects as a solid hitter with plus power potential."  Baseball America's Matt Eddy has more on Vasquez.  The Veras trade is Luhnow's second this month, as he acquired Ronald Torreyes from the Cubs for international bonus pool money.  "There's nothing else close at this point," McTaggart quotes Luhnow as saying this morning.  Starter Bud Norris is thought to be the Astros' other major trade chip this month.
The Astros and Tigers haven't hooked up for a trade in over a decade.  Back in June 2001, Tigers GM Randy Smith sent Dave Mlicki to Houston, with Astros GM Gerry Hunsicker acquiring Jose Lima.
Ken Rosenthal of FOX Sports and Brian McTaggart of MLB.com first broke news of the trade.  Photo courtesy of USA Today Sports Images.