A pair of broken bones isn't something any impending free agent wants to endure in a contract year, but that's what Curtis Granderson is attempting to overcome. After a pair of 40-homer campaigns from 2011-12, Granderson was hit by a pitch in his first Spring Training plate appearance in 2013. X-rays would reveal a fractured forearm that wound up causing the Grandy Man to sit out the first six weeks of the year.
As if that wasn't enough poor luck for the former Tiger, he was struck in the left hand by a pitch from Rays reliever Cesar Ramos on May 24 in just his eighth game of the season. Granderson stayed in the game briefly, but that would be his last contest until Aug. 2, as he had suffered a broken metacarpal that required surgery. After missing about two-thirds of the season, Granderson will hit the open market as a free agent.
Strengths/Pros
The first thing that comes to mind with Granderson is power. After averaging 24 homers per season from 2006-10, Granderson exploded with a 41-homer campaign in his second season with the Yankees.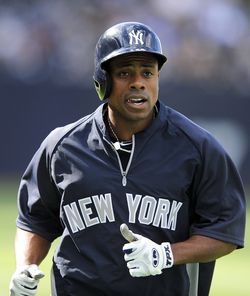 He followed that up with 43 long balls in 2012. While many will point to Yankee Stadium as the reason for his surge in power, it wasn't all the ballpark. Granderson belted 47 homers at Yankee Stadium in 2011-12 but still went deep 37 times on the road. No one in baseball had more home runs from 2011-12 than Granderson, and his 30 homers against lefties in that span were also the most in baseball.
He's capable of playing all three outfield positions as a result of his good speed, though advanced defensive metrics soured on him in 2012. UZR and The Fielding Bible both like his glove-work in this season's limited sample size, however, and he grades out as a positive defender for his career per both metrics.
That speed also comes through on the basepaths. Granderson is still a threat for double-digit stolen bases. He's swiped seven bags in 55 games this season and is just stole 25 as recently as 2011. According to Fangraphs, he's never had a full season in which his baserunning has cost his team runs, and he's been worth 28 runs above average on the basepaths over the course of his career (he's at +1.3 this season).
Granderson is also patient; he's walked in 11 percent of his plate appearances dating back to the 2008 season. His blend of patience and power allows a manager to bat him anywhere in the lineup. While he's missed time with injury this season, both were freak accidents. From 2006-12, Granderson was a picture of durability, averaging 153 games per season.
Weaknesses/Cons
Granderson hit .302 in 2007 and backed it up with a .280 season, but don't confuse him for a player that's going to hit for a high average. From 2009-13, Granderson has batted .247 due to a strikeout rate that has continued to rise. At this point, it's fair to expect him to whiff in roughly a quarter of his trips to the plate.
His best year at the plate came in 2011, when Granderson was able to post an OPS north of .900 against both lefties and righties, but he's often struggled to hit for average and get on base against left-handed pitching. In 2012, Granderson hit just .218/.304/.458 against southpaws. He's been better in a small sample size this season, but he's never shown a prolonged ability to hit lefties over multiple seasons.
Granderson is also on the wrong side of his prime. He'll turn 33 next March, so any team that pays him on a multi-year deal could fall victim to the dreaded "pay for the prime, get the decline" scenario. His isolated power peaked at .290 in 2011, dropped to .260 last season and is currently at .188. That's still a strong number but could be a portent for a power outage in the near future.
Personal
Granderson has a big personality and is friendly toward fans, teammates and the media. His parents are both retired teachers, which is one of the reasons that he is so dedicated to education. Granderson finished the final two years of his degree from the University of Illinois-Chicago while playing in the Tigers organization. He also founded the Grand Kids Foundation in 2008 — a foundation aimed to increase educational and youth baseball opportunities for inner-city children. He's very active elsewhere within the community as well, having participated in programs such as Play Baseball Detroit and Tigers Dreams Come True. He is widely regarded as one of the most amiable players in the game.
Market
Granderson's track record is strong enough that he will likely receive a qualifying offer from the Yankees, and he has a case for a multiyear deal elsewhere even if he rejects that offer. His power and magnetic personality will appeal to all teams, and the latter will be particularly appealing to large market teams with aggressive media. Granderson is a native of the Chicago area and has enjoyed his time in New York, though he hasn't necessarily indicated a geographic preference.
Granderson will be competing with the likes of Shin-Soo Choo and Hunter Pence this offseason, each of whom is younger and coming off a career year in a full, healthy season.
Expected Contract
It's tough to pin down Granderson's free agent value. Had he enjoyed a healthy season similar to 2011-12, he'd be in line for at least a four-year deal. Agent Matt Brown of Pro Prospects Inc. can emphasize the point that his two injuries were freak accidents, but teams won't simply ignore the fact that Granderson will end up having played in roughly 60 games this season.
It only takes one team to push him to a four-year guarantee, so it's not out of the question. Any team that is willing to guarantee a fourth year and sign him for Nick Swisher money — four years and $56MM — would likely be able to land Granderson. However, I'm predicting that Granderson will sign a three-year, $45MM contract this offseason, perhaps with an option that could bring him to that fourth year.
Photo courtesy of USA Today Sports Images.