Outfielder Nate McLouth signed a one-year, $1.75MM deal to return to the Pirates in December 2011, with a fourth outfielder role in mind after several years of struggles in Atlanta.  He hit a low point at the end of May last year, as the Bucs released him.  McLouth quickly signed a minor league deal with the Orioles, and played 47 games for their Triple-A affiliate before earning a call back to the bigs.  At just 236 plate appearances, the sample was limited, but McLouth helped the Orioles reach the postseason and was their best hitter in the division series.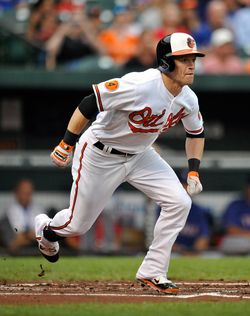 McLouth focused on a one-year deal on the free agent market, avoiding an option year but re-signing with the Orioles for just $2MM plus incentives.  He's served as the team's primary left fielder and leadoff hitter in 2013, and has put together a solid campaign over a larger sample.
Strengths/Pros
McLouth is respectable at drawing walks, with a 9% rate this year that is a tick above average for a left fielder.  This year it has led to a .332 on-base percentage, also better than average for the position.  A left-handed hitter, McLouth hit righties pretty well this year at a .275/.346/.416 clip.
McLouth also adds value on the basepaths.  He has an 84.9% career success rate in stolen bases, and is tied for ninth in the AL with 30 swipes this year.  Among those with at least 800 plate appearances and 30 stolen base attempts since 2012, McLouth's 84% success rate ranks ninth in baseball.  More importantly, FanGraphs' baserunning statistics, which cover more than just steals, suggest McLouth has added 6.2 runs on the bases this year.  That's tied for the 11th-best baserunning contribution in the game this year.
McLouth has spent most of his time in left field the last two years, but he can handle center in a pinch and even won a somewhat controversial Gold Glove for his play there in 2008.
Overall this year, FanGraphs pegs McLouth at 2.4 wins above replacement.  That's fifth among free agent outfielders, assuming Coco Crisp's option will be exercised.  McLouth is earning about 15% of Carlos Beltran's salary, but if you agree with the penalty given to Beltran by defensive stats, the two players have been roughly equally valuable in 2013.  The free agent market still veers toward baseball card numbers, so Beltran's 24 home runs and 84 RBI will serve him well and could result in a qualifying offer.  McLouth's value is less obvious, creating a potential free agent bargain even with a raise.  And a qualifying offer will not be a factor.
Weaknesses/Cons
McLouth does not hit left-handed pitching well, with a .196/.287/.304 line since 2011.  The Orioles have benched him accordingly against some southpaws, so he's faced lefties in only 21.7% of his plate appearances this year rather than the typical 26-30%.  A team signing McLouth will need to have a right-handed hitting left fielder on hand as a platoon partner.
McLouth should be used sparingly in center field, as his defensive numbers suggest he's well below average at the position.  The average left fielder has a weighted on-base average of .317 this year, not far from McLouth's .325.  He has a little bit of pop, but doesn't fit the power profile of a left fielder.  A team might have to find power at an atypical position to compensate.  
McLouth has been worth more than two wins above replacement this year, the first time he's been worth even one full win in a season since 2009.  His sample as a productive outfielder has grown, but he has to shake off an even larger sample of being replacement level.  And this may be cherry-picking, but since a huge April, McLouth has hit just .245/.309/.382.    
Personal
Born in Michigan, Nate resides with his wife Lindsay in Knoxville, Tennessee.  McLouth is a deeply religious person who has overcome adversity in his career, as explained in this article a year ago by Dan Connolly of the Baltimore Sun.
Market
The Orioles aren't brimming with alternatives to replace McLouth, and will have to turn to the free agent and trade markets if they don't re-sign him.  Nolan Reimold has been hampered by injuries for two years, and may be non-tendered.  Prospects L.J. Hoes and Xavier Avery were traded this summer, leaving Henry Urrutia as the main internal option.  Since McLouth could assume more of an above-average, oft-used fourth outfielder role, he could boost the depth of many clubs. 
Expected Contract
As a short-side platoon bat with little defensive ability, Jonny Gomes set the bar last winter with a two-year, $10MM deal.  Part-timers such as Scott Hairston, Ty Wigginton, and Jack Hannahan also received two years.  Another good example is David DeJesus, who was signed to a two-year, $10MM deal with a club option by the Cubs as an outfielder who would be benched against many southpaws.  Ultimately I think McLouth will land that same two-year, $10MM deal.
Photo courtesy of USA Today Sports Images.