After 20 consecutive losing seasons, the Pirates' record now sits at 84-61 — one game out of first place in the NL Central and a near lock to make the postseason. Their drastic turnaround can be attributed to a number of different factors; Starling Marte's breakout season and the continued development of former first-round picks Andrew McCutchen and Pedro Alvarez have certainly played large roles. There may be no bigger factor, however, than the shrewd moves and calculated offseason risks made by general manager Neal Huntington and his staff.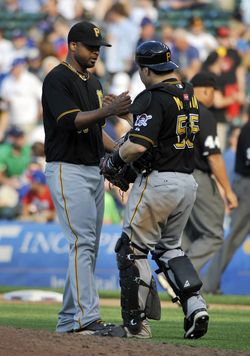 The Pirates opened the season with a payroll just north of $66MM, making the franchise-record $17MM they gave to Russell Martin on a two-year deal a greater risk than it would be to most other teams, Huntington told MLBTR:
"As a small market team, any time those type of dollars are to be committed, there is some hesitation as our margin for error is much smaller than that of the large markets. That said, we felt catcher was the spot we could make the biggest impact on our club. We aggressively targeted Martin because of his defensive package, his attitude and energy and we believed he would have a better offensive season as well. We believed Russ could have the largest impact on the Pirates of any realistically attainable player on the free agent market."
Indeed, Martin's impact has been tremendous on both sides of the game. The 30-year-old is hitting .236/.340/.387 with 13 homers, nine steals and a robust 42 percent success rate in throwing out potential base stealers. He's earning just $6.5MM in 2013 but has already been worth more than four wins above replacement due to his on-base skills, solid pop and strong defense.
Martin was paired with a familiar face upon coming to Pittsburgh — that of his former Yankee teammate A.J. Burnett. Following a pair of disappointing seasons in New York in 2010-11, the Pirates acquired Burnett in exchange for a pair of marginal prospects (Exicardo Cayones and Diego Moreno). The Yankees agreed to pay $20MM of his remaining $33MM salary to faciliate that deal.
One year later, Huntington and his team made another buy-low move by bringing in Francisco Liriano on what was originally a two-year, $12.75MM deal. A broken right (non-throwing) arm stalled that deal, but Huntington and Liriano's agent Greg Genske worked out a new contract that gave Liriano the opportunity to earn the entire $12.75MM via incentives but protected the Pirates in the event that he had to miss significant time due to the injury (Liriano has since had an option vest at $6MM for 2014).
"Despite their relative struggles, our scouts saw a plus pitch package in [Liriano and Burnett]," Huntington explained. "Metrically there were positive indicators for both. Anecdotally we felt there were some factors that would also lead to improved production in Pittsburgh. Overall we liked the upside of both pitchers if all things came together and still felt the risk of the downside was worth the investment."
The reward has been outstanding for both. In 371 1/3 innings as a Pirate, Burnett has a 3.49 ERA with 8.8 K/9 and 3.0 BB/9. He's been worth more than five WAR in his tenure with the Bucs — a significant upgrade from his time with the Yankees despite the fact that he's thrown 200 fewer innings.
As for Liriano, in 142 innings since joining the Bucs, he's posted a 2.92 ERA with 9.1 K/9, 3.5 BB/9 and a 50.8 perecent ground-ball rate. His contract was perhaps the biggest bargain of any free agent signing by any team this offseason, as he's on pace for about four WAR but will likely end up earning just $3.125MM this season, most of which has come via incentives. "Each pitcher deserves a ton of credit for their respective bounce backs but our pitching coaches, catchers and other staff have helped each guy as well," said Huntington regarding his hurlers.
However, the Pirates may never have been able to realistically pursue Liriano were it not for another series of moves. Firstly, they were able to re-sign Jason Grilli to a below-market two-year, $6.75MM contract. Grilli has missed some time on the disabled list this season, but when healthy, he's been one of baseball's best relievers. Grilli ranks third among relievers in K/9 and second in FIP. He also ranks seventh in xFIP, K/BB ratio and swinging-strike rate.
Grilli's signing gave them another power arm at the back of the bullpen to pair with former closer Joel Hanrahan. Or so it seemed. "After we were able to re-sign Grilli, we were prepared to have Hanrahan and Grilli at the backend of our bullpen for 2014," Huntington explained. "We also recognized that we may be able to trade Joel for a package that we felt had a positive impact on the organization and re-allocate dollars to other areas of our Major League club."
In the end, that's precisely what happened. The Pirates traded Hanrahan and his $7MM salary to the Red Sox along with Brock Holt in exchange for Mark Melancon, Jerry Sands, Ivan De Jesus and Stolmy Pimentel.
"We had liked Melancon since his days with the Yankees and felt like he was a quality bounce-back candidate with multiple years of control," said Huntington. "When we felt we had a chance to get Melancon as part of the Hanrahan package, it allowed us to focus on where we could re-allocate the available dollars, and we began pursue starting pitching options which led us to Liriano."
Huntington went on to add that while Liriano's injury ultimately changed the situation, the team likely wouldn't have been able to pursue him in the first place without the additional funds from the Hanrahan trade. Bringing Liriano into the fold makes that trade a winning move on its own, but Melancon himself has been nothing short of a revelation. The man pegged by the Pirates as a bounce-back candidate ranks third in the Majors with a 1.12 ERA and fourth with a 1.71 FIP.
The Pirates sit with one of the best records in baseball despite opening the season with just a $66.8MM payroll. Only the Rays, Marlins, Athletics and Astros opened the season with a smaller financial commitment. Huntington and his staff successfully identified rebound candidates and bit the bullet on the largest free agent contract in franchise history for Martin, and in doing so they built a World Series contender. The 2013 Pirates are an excellent example for fans that lament their favorite teams' limited payrolls, and they serve as proof that there are many ways to build a winning roster.
Photo courtesy of USA Today Sports Images.