Brian Wilson didn't want to sign with a team until he felt that he was competely recovered from Tommy John surgery, and his late-season numbers with the Dodgers show he was just that. Wilson looked better than ever after signing with the Dodgers for just $1MM on July 30, serving as a lights-out member of the team's bullpen down the stretch and into the NLCS. His strong showing should position him for a nice free agent deal.
Strengths/Pros
Small sample or not, Wilson was flat-out dominant in 2013. Between the regular season and the postseason, The Beard/Agent Double-Zero allowed one run on 12 hits and six walks with 21 strikeouts in 19 2/3 innings.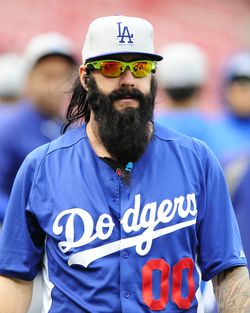 Pitchers don't typically get their velocity back immediately following Tommy John, and Wilson's heat certainly wasn't at its peak upon his return. The good news, however, is that Wilson is an absolute flamethrower, meaning that "sub-par" velocity for him translates to a 93.2 mph average heater. That mark ranks him 11th among potential free agent right-handers with at least 10 innings pitched. Two of those arms — Matt Lindstrom and Jose Veras — could see their club options exercised. Others such as Joba Chamberlain and Carlos Marmol are coming off dreadful seasons. And teams will probably be more focused on Jesse Crain's shoulder than his 94.5 mph fastball.
Wilson has averaged at least 8.6 strikeouts per nine innings in each season dating back to 2008, and his ground-ball rate has never dipped below the league average in a full season.
Looking at his splits, Wilson has actually been better against lefties in his career, and it's tough to say that he's benefited from all of his innings in the spacious AT&T Park when his career 2.98 ERA on the road trumps his 3.21 home mark.
For teams that still place a heavy emphasis on "proven" closers, Wilson fits the bill. The Beard has registered 171 career saves — a mark that only Joe Nathan, Kevin Gregg and Fernando Rodney can top among potential free agents. Gregg melted down in the season's second half, and Rodney has Wilson bested by exactly one save despite being five years older.
Wilson won't come attached to a draft pick, as it's highly unlikely that the Dodgers would tender him a $14.1MM qualifying offer.
Weaknesses/Cons
I've already referenced it, but teams are evaluating Wilson on a sample size of just 19 2/3 innings. It's impossible to tell how his surgically repaired arm will hold up over a full season's workload. He appeared in back-to-back games five times but never pitched three consecutive days for the Dodgers. If he's looking for a ninth-inning gig, the ability to pitch three in a row will be critical.
Wilson's command was solid in 2013, but he's averaged 3.9 walks per nine innings in his career and was at a whopping 5.1 BB/9 in his last full season (2011). Even prior to his Tommy John surgery, his fastball velocity had dropped, as he was at 94.3 mph in that same command-challenged 2011 campaign — down from 95.9 mph in 2010 and 96.6 mph in 2009.
The 2011 struggles with his command and velocity could be due to the beginning of his elbow issues — he did spend a month on the shelf with an elbow strain that year. However, we haven't seen a full season's work out of him since, so stastically speaking, there's not much evidence to suggest that the elbow was the lone culprit.
Personal
Much has been made of Wilson's eccentric personality, which is seen as a positive by most of his teammates. Whether touting his epic beard or playing dominos with Juan Uribe and his other teammates, Wilson keeps the clubhouse light-hearted and fun. Wilson is as passionate about being a good teammate as he is a good pitcher. He enjoys mentoring younger pitchers and is a known workout fiend. During games, Wilson will often track the action in a scorebook from the bullpen. In high school, Wilson lost his father, an Air Force veteran, to cancer. Brian honors his father's memory with charitable contributions toward the Air Force Academy. 
Market
Wilson has the misfortune of entering free agency alongside a very strong group of relievers that includes Nathan, Rodney, Grant Balfour and Joaquin Benoit. While he's the youngest of the bunch, Wilson also comes with the most uncertainty, as he's yet to pitch a full season since recovering from his second Tommy John surgery.
With so much competition, Wilson (and his peers) may struggle to find a ninth inning job on a two-year deal. He'd open his options considerably by showing a willingness to pitch on a one-year deal. If that were the case, his agents might be able to convince a team with a closer-in-waiting to delay the less-experienced arm's promotion to the ninth inning for a year. Others that have unspectacular incumbents, such as the Angels and Ernesto Frieri, may be willing to demote their current option to the eighth inning if Wilson can be attained.
If his goal is to sign a multiyear pact, Wilson and agents Dan Lozano and Matt Hannaford of the MVP Sports Group would be wise to pounce early in the offseason rather than shop around for the best fit. Doing so would maximize their chances at multiple years. Given the large amount of free agent closer options, it's better to act quickly than be left standing in January and taking a one-year deal.
Expected Contract
Wilson will, to an extent, control his own fate this offseason. A team isn't likely to guarantee three years based on just 19 2/3 innings of work, no matter how impressive they were. Should he decide he wants a two-year contract, Wilson could find a deal similar to Joe Nathan's two-year, $14.75MM contract with the Rangers if he signs early in the winter (as Nathan himself did in Nov. 2011).
In my mind, the better play for Wilson, Lozano and Hannaford is to maximize his earnings on a one-year contract and enter the open market next season. A look at MLBTR's list of 2015 free agents shows that Jason Grilli, Jim Johnson, Jason Motte, Chris Perez, J.J. Putz and Sergio Romo are the best surefire closers set to hit the market. Grilli and Putz will be 38. Johnson and Perez are current non-tender candidates based on their salaries. Motte is an unknown coming off 2013 Tommy John surgery. Rafael Soriano could be on the market, or his option could vest if he finishes 62 games next season. If Huston Street pitches well, his $7MM option will be exercised. If not, he won't be competition for Wilson anyway.
Wilson's relative youth gives him the luxury of taking a one-year contract and then positioning himself as the next offseason's top two closers, ironically alongside his Giants successor, Romo. My expectation is that Wilson will sign the same one-year, $8.5MM contract inked by Ryan Madson two years ago (perhaps with some additional incentives), then hit the market and look to cash in big in the 2014-15 offseason.
Photo courtesy of USA Today Sports Images.