After converting to the Brewers' full-time first baseman midway through the 2012 campaign, Corey Hart was expected to miss the season's first month due to offseason microfracture surgery on his right knee. Setbacks in his recovery would end up pushing his return date back, and Hart would ultimately injure his other knee, leading to another surgery that cost Hart the entirety of the 2013 season. Hart is now set to hit free agency more than 12 months removed from his last Major League game.
Strengths/Pros
Power is Hart's biggest asset when healthy. He's posted an ISO north of .225 each season from 2010-12, averaging 29 homers per season in each of those campaigns. In fact, dating back to 2010, the only free agents with an ISO greater than Hart's mark of .235 are Mike Napoli and Curtis Granderson.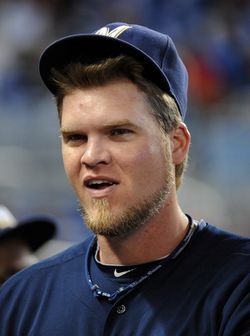 While he's much better against left-handed pitching (as is the case with many right-handed sluggers), Hart still handles same-handed pitching quite well. From 2010-12, Hart posted an .822 OPS and 120 wRC+ against right-handed pitchers.
Hart will turn 32 years old next March, so while he's on the wrong side of his prime, he's young enough that there's no need to expect a sharp decline in his skills. Because he didn't play in 2013, he's not going to receive a qualifying offer and should only command a one-year deal on the free agent market. Hart offers as much raw power as nearly any free agent on the market, but will come at a fraction of the price in terms of years and dollars, without requiring a draft pick.
Weaknesses/Cons
Hart was never an elite right fielder, but after a move to first base in 2012 and what has turned into a severe knee injury, his days in the outfield could be over. If that's the case, and Hart is limited to first base, he doesn't bring much in the way of defensive value. In his brief career at first, Hart has graded out as a poor defender.
Hart's power levels jumped in 2010, and he's been able to sustain those elevated levels, but it's come with an increased strikeout rate as well. Hart struck out in nearly 23 percent of his plate appearances from 2010-12, and he's never been one to take many walks (career 7.1 percent walk rate).
It's also no guarantee that Hart will come back as the same player he was in 2010-12. He's a buy-low candidate for teams in need of power, but should a contending team feel comfortable banking on Hart to hold down a spot in the middle of the order? The Rangers went a similar route with Lance Berkman this past offseason and received little return on that investment.
Personal
Corey is known as a strong family man. He and his wife, Kristina, have two daugters and two sons together. He has been active within the Wisconsin community, participating in charity funds for the Girl Scouts of Milwaukee Area, the Girls of Summer Softball League, the Wisconsin American Legion, Stomp Out Spit Tobacco, Make-A-Wish and more.
Market
Hart has already said that he'd take a discount to return to Milwaukee — the team that drafted him in 2000 and the only organization that he has ever known. The matchup makes sense, too, given the Brewers' lack of a clear internal candidate to man the position. Milwaukee deployed a combination of Alex Gonzalez, Juan Francisco, Yuniesky Betancourt, Sean Halton and Blake Lalli at the position in 2013 and received a ghastly .211/.256/.359 batting line. The Brewers' collective wRC+ of 64 was the worst in all of baseball at first base, making a reunion with their longest-tenured player an attractive option.
Sticking in the midwest, the Twins lack an obvious first base candidate and could afford to take a flier on Hart. He'd be a nice trade chip for their rebuilding efforts should they sell pieces next July. The Indians could deploy Hart at first base and move Nick Swisher back to the outfield, moving Drew Stubbs into a fourth outfielder role. Elsewhere around the league, the Orioles, Mariners, Rangers, Red Sox, Rays, Mets, Pirates and Rockies all have uncertainty at first base/designated hitter. And with Jose Dariel Abreu now committed to the White Sox on a six-year deal, Hart's competition on the open market has decreased.
Expected Contract
An incentive-laden one-year deal seems likely, and it makes sense for both Hart and his suitors. Interested teams aren't likely to be comfortable guaranteeing multiple years for Hart, and he's young enough to cash in on a strong season and earn a multiyear pact next winter.
Hart earned $10MM in 2013 but could have to take a pay cut. Berkman was able to land a $10MM base salary plus a $1MM buyout on his $12MM option for 2014, but he at least played in 32 games in 2012. Hart, on the other hand, never took the field and is coming off surgery on both knees, making the Berkman deal a lofty open-market goal for he and agent Jeff Berry of CAA.
His track record from 2010-12 is still strong though, and right-handed power is in scarce supply beyond Hart, Napoli, Byrd and Nelson Cruz. Ultimately, I think Hart could command a one-year, $8MM contract on the open market with another $2-4MM worth of incentives. If he's serious about taking a discount to stay with the Brewers, he may play for slightly less than that and settle for a $6MM base salary as a show of good faith to the only organization he's ever called home.
Photo courtesy of USA Today Sports Images.