It's been an eventful 12 months for Ervin Santana. It seems hard to believe that just a year ago, Royals GM Dayton Moore's decision to acquire Santana and $1MM for minor leaguer Brandon Sisk was widely panned. Since that time, Santana resurfaced as one of the better pitchers in the American League, one of the game's top trade chips at the deadline and of course, one of the most desirable free agents on the market.
Strengths/Pros
Santana shaved nearly two runs off his ERA this season, dropping it to 3.24 and crossing 200 innings for the fifth time in his nine-year career. Durability is one of Santana's biggest assets; he's only been on the disabled list twice in his career. Dating back to 2011, Santana's average of 6.5 innings per start is the highest of any notable free agent. That ability to work deep into games is a boost for teams looking to avoid overtaxing their bullpens.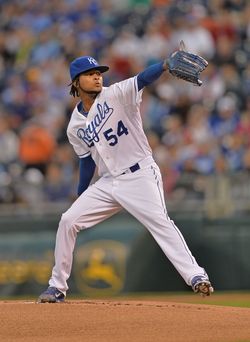 Santana's 92.4 mph average fastball is among the fastest for free agent starters this season. Only Matt Garza, Josh Johnson, Jon Lester, Jason Hammel, Edinson Volquez, A.J. Burnett and Scott Kazmir throw harder. Lester's option will be picked up, however, while Volquez and Johnson posted two of baseball's worst ERAs. If you're looking for a starter that can average better than 92 mph on his fastball, Santana is a cut above the rest. In terms of swinging-strike rate, only Burnett, Kazmir, Ricky Nolasco and Chris Capuano topped Santana's 10 percent mark.
Santana's career 2.8 BB/9 rate is a testament to his excellent control, but he took that a step further in 2013. Santana's 2.2 BB/9 rate is fifth-best among qualified starters. Removing three intentional walks from the equation, that number drops to 2.0. Santana also continued to display an increased ground-ball rate, posting a career-best 46.5 percent mark in 2013 — his third-straight season of at least 43.2 percent.
Age is on Santana's side; he's set to turn 31 in December, making him younger than a number of his peers and bringing the promise of a few more of his prime years over the course of his next contract.
Weaknesses/Cons
Santana is homer-prone (career 1.22 HR/9), and the homer bug bit fiercely in 2012 when his 39 long balls allowed were the most in the Majors. That season was a clear outlier, as evidenced by a remarkably fluky 18.9 percent homer-to-flyball ratio (the league average that season was 11.8 percent, and Santana's career mark is 11 percent). Even if you ignore the outlier season, however, only twice has he posted a HR/9 better than the league average.
For a player who is positioned as one of the top pitchers on the free agent market, Santana doesn't strike hitters out at an elite rate. His 6.9 K/9 in 2013 was below the league average of 7.2 for starting pitchers, and he hasn't averaged more than 7.0 punchouts per nine innings since 2008. 
I'd be remiss not to point out that Santana was little more than a salary dump a year ago at this time. The Royals' acquisition of him was widely questioned, as he was coming off a season in which he posted a 5.16 ERA — his second ERA north of 5.00 in a four-year span. Santana does not have consistency on his side, and he pitched below replacement level in 2012.
Part of the reason for his other 5.00+ ERA season (5.03 in 2009) was that he partially tore his UCL and elected to rehab and pitch through it. His ERA that season is probably more representative of the injury than his ability, as he posted a 7.81 first-half ERA but a 3.90 second-half ERA (3.09 in his final 12 appearances). Santana has never had the injury corrected, but it doesn't appear to be a major issue, as he's thrown 980 innings since partially tearing the ligament. Put another way, Santana has thrown nearly as many innings since the 2009 injury as one of his competitors, Josh Johnson, has thrown in his entire career dating back to 2005.
Advanced metrics such as FIP, xFIP and SIERA all feel that even in Santana's best seasons, he's more of a 3.90-4.00 ERA pitcher. Those may be a bit unfair, as he's shown the ability to consistently post a BABIP that's better than the league average, as seen in his .282 career total. It's still hard to ignore the fact that Santana has had just one truly elite season — a 219-inning, six-fWAR (five rWAR) masterpiece back in 2008. He's never been able to replicate his velocity, swinging-strike rate or strikeout rate from that season.
Santana's strong overall numbers in 2013 make a qualifying offer an absolute no-brainer for the Royals, so a team will absolutely have to forfeit its first- or second-round pick to sign him.
Personal
Per the Royals media guide, Santana and his wife, Amy, reside in the Dominican Republic in the offseason. He enjoys teaching children about baseball fundamentals and is outspoken in the confidence he has in himself and his teammates on Twitter. Santana was a hot topic at MLBTR over the summer months, and he showed off his playful side by making this Youtube video that described how it felt to be the target of so many trade rumors.
Market
Santana parlayed his rebound campaign into a No. 6 ranking on Tim Dierkes' Free Agent Power Rankings, leapfrogging Garza as the top domestic free agent pitcher on the market (Masahiro Tanaka, at No. 5, is the top overall pitcher).
The Royals have made it known that they'd like to re-sign him, but if they're truly reluctant to offer more than three years, Santana is as good as gone. Any team in search of pitching figures to at least place a call on Santana, meaning that the Orioles, Blue Jays, Yankees, Twins, Indians, Mariners, Giants, Rockies, Pirates, Cubs, Nationals, Phillies and Mets should all have varying degrees of interest.
Of course, not all those teams will be willing to bid high enough to land his services, nor will they all be keen on surrendering a draft pick to acquire Santana. The Twins are one team that has recently said they'd forfeit their second-round selection if they liked a player enough, though Santana is far pricier than their typical mold. On the flip-side of the coin, the Mets seem strongly against the idea of sacrificing their second-round selection for any player other than Shin-Soo Choo.
Expected Contract
ESPN's Keith Law recently wrote (Insider subscription required and recommended) that a four-year deal is a likelihood for Santana on the free agent market, adding that he prefers him to Garza and Dan Haren.
I find a four-year deal to be the floor for Santana, and would expect agent Bean Stringfellow of Proformance to seek a five-year pact. Given the sheer volume of teams looking to bolster their rotations and the relatively weak crop of free agent hurlers on the market, Santana has an honest chance at getting there. We've already received a glimpse at what the early market for free agent pitching will look like, with Tim Lincecum agreeing to a two-year, $35MM extension with the Giants.
Going back to 2008, Anibal Sanchez, Zack Greinke, C.J. Wilson, Yu Darvish, Cliff Lee, John Lackey, CC Sabathia and Burnett have inked free agent deals for five or more seasons. Each of those players was considered one of the top two starters on the market in his respective free agent class. Second-tier pitchers such as Derek Lowe and Edwin Jackson have been able to find lofty four-year commitments, and Santana enters free agency on the heels of a vastly superior season to the one that led to Jackson's four-year, $52MM pact with the Cubs.
As ludicrous as it would've sounded a year ago — and improbable as it will sound to some even now — my expectation is that Santana finds a team willing to push the limits and offer a five-year, $75MM contract.
Photo courtesy of USA Today Sports Images.