Only a legendary reliever could post a 1.39 ERA that isn't even his career-best.  Joe Nathan did just that for the Rangers in 2013, proving he's still elite at age 38.  After finishing 62 games in 2012 and 61 in '13, Nathan earned the right to void a $9MM club option and become a free agent, which he's expected to do.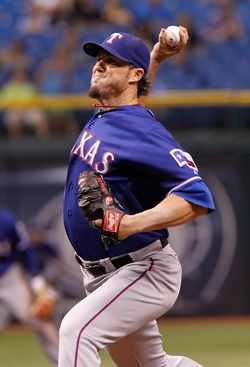 Strengths/Pros
With Mariano Rivera's retirement, Nathan ranks first on the active career saves leaderboard with 341.  That number ties him for tenth all-time with Rollie Fingers, and Nathan can reasonably ascend to sixth all-time by the end of a two-year contract.  He became a full-time reliever in 2003, posting a 2.24 ERA and 3.94 K/BB ratio in 671 1/3 innings since then.  Nathan, who spent the bulk of his career with the Twins, has racked up six All-Star nods.  He's saved at least 37 games in eight different seasons.  His career save percentage is 90.0, the best in baseball history for anyone with at least 200 saves.  Nathan has been one of the best relievers of the entire save era.
Nathan had Tommy John surgery in March 2010, and his final year with the Twins in '11 was a consolidation year as he returned from the procedure.  From 2012-13 for the Rangers, he posted a 2.09 ERA, 10.5 K/9, 2.4 BB/9, 6.3 H/9, and 0.63 HR/9 in 129 regular season innings.  He made the All-Star team both years, saving 80 games in total.  Among relievers with 100 innings during that time, his ERA ranks seventh.  Only four pitchers saved more games.
Outside of the elbow surgery, Nathan has rarely been injured, consistently pitching at least 64 innings per year.
Qualifying offers for relievers figure to remain rare, though Nathan has a chance at one.  Most likely, the Rangers won't risk a potential $14.1MM commitment and won't make the offer.
Weaknesses/Cons
Nathan will pitch at age 39 next year.  Outside of Rivera, who is in a class by himself, there have been only seven instances since 1980 of pitcher age 39 or older saving 30 games in a season.  Dennis Eckersley did it twice, and Trevor Hoffman did it three times.  I explained above that Nathan is a legendary closer in his own right, so he belongs with those names, but it will still be a risky multiyear commitment at significant dollars.  Agent Dave Pepe can counter the age concerns by pointing out that his client is a workout fanatic.
Nathan walked 3.1 batters per nine innings this year, his worst rate since '03.  He walked over four per nine in the second half, even with a strong September finish.  It might be nothing more than a blip, but the increased walk rate is worth considering.
Nathan's groundball rate this year was just 32%.  It may seem like nitpicking, as Nathan surrendered only two home runs in his 64 2/3 innings.  However, most relievers with a groundball rate similar to Nathan's allowed around one home run per nine innings, as Nathan did in 2012.  Home run prevention is one area in which we should not expect Nathan to be elite moving forward.
Personal
Nathan, his wife, and two children reside in Knoxville, Tennessee.  He graduated from SUNY-Stony Brook in '97 with a degree in business management.  Known for his intelligence, Nathan will receive an honorary doctorate from the university in December.  His hobbies include golf and playing the guitar.
Market
Though he committed two years to a 37-year-old Nathan coming off his worst season, Rangers GM Jon Daniels told reporters this month that giving multiple years to relievers has never been the team's preference, and the situation was different that offseason.  While a return to the Rangers can't be ruled out, it seems the Rangers might choose to allocate their resources toward other players and save some money in the ninth inning.  
Nathan projects as a closer on a large-market, win-now team.  The Yankees, Tigers, and perhaps the Angels might be the only teams that fit that criteria and aren't locked in at closer.  The Dodgers or Red Sox could work, but both clubs would have to demote relievers coming off dominant seasons.  The Orioles or Indians could enter the mix, non-tendering or trading Jim Johnson or Chris Perez given arbitration projections in the $11MM and $9MM ranges for their closers, respectively.  Pepe could face a situation similar to that of Rafael Soriano, whose market was limited by his price tag.  Eventually, Scott Boras leveraged his ownership connections to land two separate big-money mid-January contracts for Soriano, even though the closer came with a draft pick cost attached.
Teams seeking closers will have other options beyond Nathan, including free agents Grant Balfour, Joaquin Benoit, Edward Mujica, and Fernando Rodney.
Expected Contract
Nathan will be voiding his option in search of a multiyear deal, but three years is difficult to picture given his age.  Rivera's two-year, $30MM deal signed after the 2010 season is Nathan's ceiling.  Soriano's two-year, $28MM pact could be another point of reference, though that contract has heavy deferrals and a vesting option, and covers the pitcher's age 33-34 seasons.  Ultimately I think Nathan will sign a two-year, $26MM deal with a club option for 2016.
Photo courtesy of USA Today Sports Images.