When the Mets took a minor league flier (lame pun intended) on Marlon Byrd, the transaction was met with little enthusiasm. Such is the case with minor league deals for veterans. Most fans enter the offseason dreaming on big names and high-upside rebound candidates, neither of which were overly applicable to Byrd. Mets fans and Pirates fans alike benefited from Byrd's rebound, and he'll carry a career-best .294/.336/.511 slash line and 24 homers into free agency.
Strengths/Pros
Byrd has typically been able to hit for average and get on base at a solid clip, as evidenced by his career .280/.336/.425 batting line. Even if he can't repeat the surprising power that he showed in 2013, there's plenty of reason to expect helpful contributions in terms of batting average and OBP.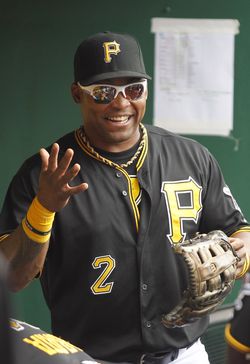 The power that he showed in 2013 is tough to completely write off, however; his agents, Seth and Sam Levinson of ACES, will be able to point out the fact that Byrd's .220 ISO ranked second among qualified free agent hitters, trailing only Mike Napoli.
Byrd was particularly deadly against left-handed pitchers, slashing .344/.376/.583 with eight homers in 178 plate appearances, but he was no slouch against same-handed pitching either. Byrd batted .268/.318/.480 against right-handers in 2013, giving him a 129 OPS+ against right-handed pitchers and a 157 mark against lefties.
In the outfield, Byrd can play center field in a pinch and graded out as an outstanding defensive right fielder. He posted a +2.6 UZR/150 in right field, but The Fielding Bible loved him at +12 runs saved in his 1168 innings.
The only truly bad season that Byrd has had in recent history was 2012. That year aside, he's posted an OPS+ of at least 96 and wRC+ of at least 94 in each season dating back to 2007. Interested parties can reasonably expect at least a league-average offensive performance out of Byrd with the upside for quite a bit more.
Because he was traded midseason, Byrd is unable to receive a qualifying offer (not that the Pirates would've extended one anyhow). He will not be tied to draft pick compensation.
Weaknesses/Cons
With such a strong showing in 2013, it's easy for some to forget that Byrd looked like he was finished as a Major Leaguer in 2012. Prior to his age-36 renaissance, Byrd mustered just a .210/.243/.245 batting line in 153 plate appearances between the Cubs and Red Sox in a season that was also marred by a 50-game suspension. Byrd acknowledged that he made a mistake in using a banned substance to help recover from a surgical procedure. Byrd was quoted as saying that he was "mortified by [his] carelessness" and accepted his suspension without protest.
Byrd has never been one to draw many walks, and 2013 was no exception as he earned a free pass in just 5.4 percent of his trips to the plate. That mark actually represented his highest rate since 2008 with the Rangers. Unfortunately, it also came along with a career-worst 24.9 percent strikeout rate. Byrd's 14.7 percent swinging-strike rate was the seventh-highest among qualified hitters, and his 40.7 percent chase rate on pitches out of the zone ranked 10th. To sum it up in a concise manner: plate discipline isn't really Byrd's strong point.
Personal
Early in October, John Perrotto wrote that Byrd's ebullient personality made him a quick favorite in the Pirates' clubhouse. Dave Caldwell of the Wall Street Journal wrote in June that Byrd was beloved and respected in the Mets' clubhouse as well, with David Wright talking about the importance of the example that Byrd set with his work ethic.
Caldwell added that Byrd's wife, Andrea, used to send him a copy of a speech from Theodore Roosevelt at the beginning of each season, but that is no longer necessary. As ESPN's Doug Padilla wrote prior to the 2012 season, Byrd has Roosevelt's "The Man in the Arena" tattooed on his arm, beginning with the lines: "It is not the critic who counts; not the man who points out how the strong man stumbles, or where the doer of deeds could have done them better." (Padilla's piece has the full quote)
Market
The Pirates have said they will try to retain Byrd, and there's mutual interest in a reunion between Byrd and the Mets. Beyond that, any team with a corner outfield hole and in need of a cheap upgrade could look to Byrd as an option.
The Phillies are one team that is known to be looking for right-handed pop to balance out their lineup, and GM Ruben Amaro Jr. has said he doesn't view Darin Ruf as an everyday player. Byrd was dealt from the Phillies to the Nationals in a change of scenery deal back in 2005 after questioning his role with the team, but then-GM Ed Wade and manager Charlie Manuel no longer occupy those roles and it's been more than eight years, so a return could be plausible.
The Rockies could give Byrd a look and move Michael Cuddyer — who was one of baseball's worst defenders in right field — to first base to replace the retiring Todd Helton. The Royals are prioritizing right field and second base this offseason, and Byrd will be more affordable than Carlos Beltran and Nelson Cruz. The Rangers let Byrd walk in free agency once when they felt they had cheaper internal options in Julio Borbon and David Murphy. Now in need of a corner bat if Cruz isn't retained, a return would seem to make sense. Other teams that would make sense include the Orioles, Giants and Mariners, to name a few.
Expected Contract
Right-handed pop is in short supply on the free agent market, and even with some regression, Byrd offers a plus glove in right field. Because Byrd and the Levinsons can point to the 2012 season as an abnormality, a two-year deal doesn't seem far-fetched. Byrd has always been an under-the-radar commodity, and there's little historical context for a 35-year-old outfielder posting an unexpected four-WAR season after a year in which he was below replacement level. Byrd's case is fairly unique, and as a result it leaves us with little historical context to make a prediction.
Jonny Gomes' two-year, $10MM contract with the Red Sox may seem a good comparison upon first glance, but Gomes got that contract coming off a season in which he played just 99 games, and his defense is generally not considered a positive. That contract seems like the floor for Byrd, but I think the demand for right-handed power bats and the bulk of teams looking for a corner outfield upgrade will allow Byrd to beat Gomes' deal. In recent years we've seen corner bats Melky Cabrera and Jason Kubel land two-year deals for $16MM and $15MM, respectively, and my expectation is that Byrd will match Cabrera with a two-year, $16MM deal.
Photo courtesy of USA Today Sports Images.