Stephen Drew signed a one-year deal with the Red Sox last offseason to rebuild his value after losing nearly a year to a gruesome ankle injury.  "I think after this year, I think everyone is going to think a lot different about what type of player Stephen is and the impact he can have on a division-contending team," said agent Scott Boras when Drew signed.  Drew went on to have the mostly healthy, productive season he and his agent envisioned. The free agent market for shortstops is bleak, and Drew stands to benefit.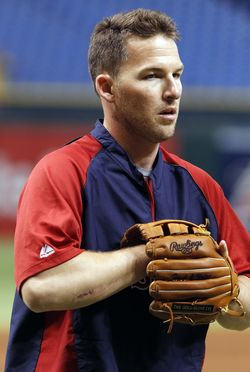 Strengths/Pros
The average shortstop hit just .254/.308/.367 this year, so any offense out of the position is a plus.  Drew's .253/.333/.443 line looks quite good by comparison.  His OBP ranked third in baseball among shortstops with 500 PAs, and his slugging percentage ranked fourth.  Drew's .190 isolated power trailed only Hanley Ramirez and Troy Tulowitzki among shortstops.  There's room for more, too — Drew posted a .352 OBP in 2010, and slugged .502 with 21 home runs in '08.
Among those with 500 plate appearances in 2013, Drew's 4.10 pitches per PA ranked 21st in all of baseball, bested only by two other free agents.  He works the count well.
Drew really took off after returning from a hamstring injury in 2013, hitting .292/.367/.513 in 221 plate appearances from July 27th onward.
Drew's defense grades out as above average based on UZR, and anyone who saw him in the playoffs would agree.  Drew's overall production was good for 3.4 wins above replacement, and he reached 4.7 as recently as 2010.  He's an all-around player at a premium position.
Drew is still relatively young, as he doesn't turn 31 until March.
Weaknesses/Cons
Drew fractured his right ankle in a slide at home plate on July 20th, 2011, a season-ending injury that required surgery.  He hoped to be ready for Opening Day 2012, but instead made his season debut for the Diamondbacks on June 27th.  Said D'Backs Managing General Partner Ken Kendrick, "I think Stephen should have been out there playing before now, frankly.  I, for one, am disappointed. I'm going to be real candid and say Stephen and his representatives are more focused on where Stephen is going to be a year from now than on going out and supporting the team that's paying his salary."  Boras denied the claim, making a reasonable point: "If you're talking about what the best thing Stephen can do for himself, that's to play baseball and play a lot of it.  I don't think he wants anything different. That's the best thing he can do for Stephen and for his team. Why would he not want to play? The guy's going to be a free agent."  Still, some damage was likely done to Drew's reputation by Kendrick's comments.  It didn't help that Stephen's older brother J.D. had been known as one of the game's more injury-prone players.  With free agency approaching, the D'Backs traded Stephen Drew to the Athletics in an August waiver trade.
A spring concussion pushed Drew's Red Sox debut to April 10th, and he later missed three weeks due to a hamstring injury.  Though Drew's injuries this year seemed minor and were not related to his ankle, he was limited to 124 regular season games, for a three-year average of about 96.  Until he goes out and does it, some teams may be skeptical that Drew can handle 140+ games again.
Drew, a left-handed hitter, batted just .196/.246/.340 against southpaws this year.  He had a rough time away from Fenway, hitting .222/.295/.392 on the road.  Drew also struggled mightily with the bat in the postseason, with a .111/.140/.204 line in 57 plate appearances.  For most teams, the small postseason sample shouldn't be a deterrent, and Drew did homer in Game Six of the World Series.
Drew received a qualifying offer, so a team will have to forfeit its highest available draft pick to sign him.  It is possible the qualifying offer could have a significant effect on his market.
Personal
Drew was born in a small town in southern Georgia and resides nearby with his wife and two sons in the offseason, right down the street from older brother J.D.  By getting drafted in the first round in 2004, Stephen matched the near-impossible standard set by his older brothers Tim and J.D., who had both been drafted in the first round in 1997.  The Drew brothers are the only trio of siblings to have been selected in the first round of the MLB draft.  J.D. had a successful baseball career, which ended with a five-year stint with Boston, while Tim logged 35 appearances across in parts of five seasons.  Stephen told Gordon Edes of ESPNBoston.com he was a natural-born right-handed hitter, but took up swinging from the left side in admiration of J.D.   He'd later follow J.D. to Florida State and to the Red Sox (and even chose his number seven), though at a young age Stephen chose a very different position in shortstop rather than the outfield.
J.D. had a reputation of being quiet and dispassionate, but Stephen talks a lot more than his brother, noted Red Sox manager John Farrell in Edes' article.  He's a deeply religious man, wrote MLB.com's Steve Gilbert in 2010. 
Market
There hasn't been much buzz about the Red Sox re-signing Drew, perhaps because they have a ready replacement in Xander Bogaerts.  Teams that may be seeking a shortstop this offseason include the Pirates, Cardinals, and Mets.  Drew's market is not limited to that trio, and he will probably need some unexpected suitors to materialize.  For example, the Dodgers could move Hanley Ramirez to third base to make room.  Drew's only free agent competition is Jhonny Peralta, who won't cost a draft pick but also isn't considered a shortstop by some teams. 
Expected Contract
Boras is probably telling teams Drew is one of the best shortstops in baseball, and certainly the best available this winter.  Don't be surprised if Boras sets out seeking a five-year contract for his client.  In reality, though, the fourth year will be a sticking point for most teams, along with the draft pick, and a three-year deal in the $36-42MM range is possible.  But I see Drew closer to the Michael Bourn range, so I'm predicting a four-year, $48MM deal.
Photo courtesy of USA Today Sports Images.