A stem cell injection into Bartolo Colon's right shoulder helped to reinvigorate his career with the Yankees in 2011, but the merits of that procedure were called into question a bit by a 50-game suspension for elevated testosterone levels last August. Colon will turn 41 next May, but he still feels that he can pitch another three years, and his 2013 results suggest that it's certainly possible.
Strengths/Pros
Colon's ERA has dropped in each season since his 2011 comeback, and while critics will instantly leap to make PED allegations, he didn't have a positive test in 2013 — a season in which he was better than he was in 2012 when he failed a drug test.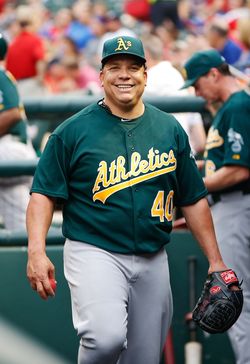 Colon's strikeouts and 93 mph heater seem to be a thing of the past (though he saw a notable uptick toward season's end), but he now boasts some of the best command among all Major League starters. Only Cliff Lee, David Price and Adam Wainwright averaged fewer walks per nine innings this season, and no free agent starter was able to match his precision. In fact, over the past two seasons — a span in which he's thrown 342 2/3 innings — Lee is the only starter in all of baseball with a lower BB/9 rate than Colon.
A great deal of Colon's success comes from the fact that he pounds the strike zone to get ahead in the count. Ervin Santana, Dan Haren and Bronson Arroyo are the only free agents that threw a first-pitch strike more often than Colon this season. As such, he's able to keep his pitch count down and work deep into games; he's averaged more than 6 1/3 innings per start since Opening Day 2012.
Many will assume that the spacious O.Co Coliseum is the reason for his success, but Colon's 2.95 road ERA since 2012 is actually better than his 3.03 ERA at home. Colon comes with quite a bit of postseason experience, having pitched to a 3.70 ERA over 58 1/3 innings in 10 career playoff starts.
Colon didn't receive a qualifying offer from the A's, so adding his veteran presence and postseason experience to a team won't cost a draft pick.
Weaknesses/Cons
Colon's fastball averaged just 89.9 mph this season, and he's managed just 5.5 K/9 in his two years with the A's. Would he be so effective if his heater continued its current downward trajectory? Loss of velocity on his fastball would seem to be particularly damaging to Colon, as he throws roughly 85 percent fastballs. PITCHf/x tells us that 47 percent of those fastballs are two-seamers, so perhaps it's deliberate, as his four-seamer has remained constant at 91.2 mph.
Colon's conditioning will likely be called into question. He's listed at 5'11" and 265 pounds, which will certainly be a red flag for some teams. Whether or not the two are related, Colon has had a 15-day DL stint in each of the past two seasons, and he hasn't topped 200 innings since 2005.
Colon's ERA has been outstanding, but it's also been propped up by a 7.4% HR/FB ratio over the past two seasons. His xFIP — FIP adjusted with a league-average HR/FB — over that same time is a more pedestrian 4.04. Colon's career 10.2% HR/FB is roughly league average, so it's fair to wonder if he can continue limiting homers at such a high rate.
Personal
Colon comes with a bit of baggage in the form of his PED suspension, but that hasn't changed how he's viewed by teammates, managers and front office officials. Colon is very well-regarded and well-liked in clubhouses, as evidenced by the fact that Oakland welcomed him back with open arms following last year's suspension.
Colon is married with three sons and is active in the community. He's made contributions to the American Red Cross to benefit the victims of Hurricane Katrina and also has funded the construction of baseball fields in his hometown of Altamira in the Dominican Republic, per the A's media guide. Baseball runs in his family, as his brother, Jose, pitched in the Indians system but didn't reach the Majors.
Market
There's mutual interest between the A's and Colon in a reunion for the 2014 season, and he's recently gone on record as stating that he feels he can pitch as many as three more years at the big league level. If he's open to another one-year deal, Colon and agent Adam Katz of the Wasserman Media Group will have no shortage of teams calling up this winter.
Most players coming off brilliant seasons in the late stages of their careers prefer to sign with a contender, and there's no reason to expect anything different from Colon. In addition to the A's, the Pirates, Nationals, Yankees, Orioles, Indians and Royals could all show interest.
Expected Contract
Colon may think he can pitch for three more seasons, but at this point it seems that he'd be hard-pressed to find a team willing to guarantee him multiple years. Multiyear deals for starters on the wrong side of 40 are of the utmost rarity. R.A. Dickey managed a multiyear pact that guaranteed him $12MM in his age-40 season with an identical option for his age-41 campaign, but he did so as a knuckleballer coming off an improbable Cy Young Award, so he doesn't compare that well to Colon.
The previous contract negotiated by Katz contained a $3MM base salary plus $200K for 10, 15, 17, 20, 22 and 25 starts as well as $200K for 140, 150, 160, 170, 180 and 190 innings. Colon hit each of those levels in 2013, totaling a $5.4MM salary.
Coming off a brilliant season without the doubt of a suspension tied to his name, Colon figures to receive a significantly larger salary. He should be compensated more handsomely than reclamation projects like Phil Hughes and Josh Johnson, even if each is significantly younger. My expectation is that Colon can find a one-year, $10MM contract with incentives that can push the total value into the $12MM range.
Photo courtesy of USA Today Sports Images.