The Padres finished the season with a six-man rotation and have talented arms on the mend from Tommy John surgery in the form of Cory Luebke and Joe Wieland, but that didn't stop GM Josh Byrnes from landing one of the highest-upside arms on the free agent market. The Padres announced on Wednesday that they have signed right-hander Josh Johnson to a one-year contract.
Johnson's deal is reportedly worth $8MM, and he can earn another $1.25MM if he makes 26 starts. The contract also contains a conditional option that offers the Padres some protection against his lengthy injury history; if Johnson fails to make seven starts next season, San Diego will gain a $4MM club option for the 2015 season.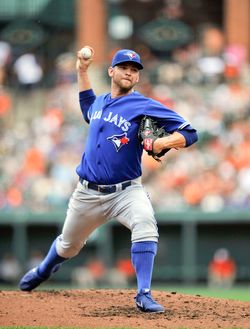 The Pirates appear to have been the runners-up in the Johnson sweepstakes, MLBTR's Tim Dierkes tweets, and ESPN's Jerry Crasnick cites the Astros, Royals, and White Sox (Twitter link) among the other clubs that expressed interest in Johnson.  Johnson had the Padres and Giants as his top two choices and turned down bigger one-year offers to sign with San Diego, a source told Crasnick.  
Johnson had a rough 2013, making just 16 starts thanks to injury troubles.  The soon-to-be 30-year-old pitched through tendonitis in his knee all season and spent time on the disabled list due to a forearm strain and triceps inflamation before undergoing surgery to remove bone spurs from his right elbow in early October.  Johnson has only topped 200 innings in a season once and has only thrown more than 100 innings four times in a Major League season.
In his shortened 2013 campaign, Johnson posted a 6.20 ERA with 9.2 K/9 and 3.3 BB/9 in 81 1/3 innings. However, advanced stats such as xFIP (3.58) and SIERA (3.73) would indicate that bad luck played a role in Johnson's troubles.  For his career, Johnson owns a 3.40 ERA with 8.3 K/9 and 3.0 BB/9.
Johnson figures to join Ian Kennedy, Andrew Cashner, Eric Stults, and Tyson Ross in San Diego's projected 2014 rotation, giving the Padres a very solid starting five in the increasingly competitive NL West.  Joe Wieland, Cory Luebke, and Robbie Erlin also figure to be in the mix.
While Johnson and his health might not be a sure thing, the deal appears to be fairly low-risk at just one year and the $8MM price tag doesn't break the bank for San Diego.  Tim predicted back in October that Johnson would net a one-year, $8MM deal in free agency.
Earlier today, Travis Sawchick of the Pittsburgh Tribune-Review reported that Johnson narrowed down his choices to three or four teams, with the Pirates being among the clubs in the mix.  Shortly thereafter, Tim learned that all of the interested teams were out of the National League with some likely on the West Coast.
Johnson is in San Diego for a physical today and the deal is expected to be announced Wednesday.  The right-hander ranked 30th on Tim's Top 50 Free Agents list for 2014.
Jerry Crasnick of ESPN.com first reported the one-year, $8MM agreement. MLBTR's Tim Dierkes was the first to learn about the incentives (Twitter link), and Yahoo's Jeff Passan broke the news about the conditional $4MM option for 2015 (on Twitter).
Steve Adams contributed to this post. Photo courtesy of USA Today Sports Images.