Before the season began, Blue Jays righty Josh Johnson ranked third on my Free Agent Power Rankings, which serves as an example of how tantalizing his abilities can be.  He lasted four starts before hitting the DL with triceps tightness.  He returned over a month later and made another dozen starts before a forearm injury ended his season.  On October 1st, Johnson had arthroscopic surgery to remove loose bodies and a bone spur in his elbow, and he's expected to be ready for Spring Training.  Let's take a look at his free agent prospects after the lost season.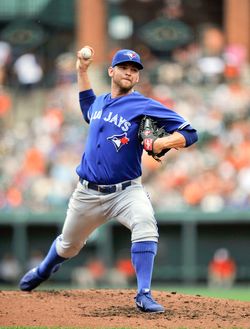 Pros/Strengths
Johnson is one of the hardest-throwing free agent starters, as his average fastball velocity of 92.8 miles per hour this year was bested only by Garza.  He finished fourth in strikeouts per nine innings at 9.18.  Even in a year in which almost nothing went right, Johnson still threw hard and whiffed more than a batter per inning.
Prior to 2013, Johnson had a reputation of a pitcher who would spend some time on the DL, but would be excellent when he was on the mound.  He posted a 3.14 ERA over 904 1/3 innings from 2006-12.  During that time period, his ERA ranked sixth in all of baseball among those with at least 800 innings.  Johnson pitched like an ace for the Marlins from 2009-10, with a 2.80 ERA over 392 2/3 innings.  Only four pitchers were better.  He made the All-Star team in both seasons, and finished fifth in the 2010 NL Cy Young voting after posting a 2.30 ERA.
Given his rough 2013 campaign, Johnson is highly unlikely to receive a qualifying offer, so he won't come with a draft pick cost attached.
Johnson's recent elbow surgery could be construed as a positive, as Dr. James Andrews told the pitcher he thought the bone spurs were the cause of his struggles this year, agent Matt Sosnick told MLBTR.
Weaknesses/Cons
Johnson is a starting pitcher who tossed fewer than 1,000 innings over an eight-year span, as he's been injured a ton.  In 2006, his first full season, he was done on September 12th due to a forearm strain.  He began the '07 season on the DL with ulnar nerve irritation in his right biceps.  After beginning his season in June of that year, he made four starts before going under the knife for Tommy John surgery in August.  His recovery was short, as he was back on a Major League mound in less than a year.
Johnson was injury-free in '09, and signed a four-year extension after that season.  Though he technically avoided the DL in his fantastic 2010 campaign, his last start came on September 4th due to shoulder inflammation and a back strain.  He hit the DL with shoulder inflammation in May 2011, and wasn't able to return from the injury that year, finishing with only nine starts.  The mostly-healthy 2009-10 seasons showed Johnson bounced back well from Tommy John surgery, but '11 reintroduced the idea that he was injury-prone.  He bounced back in 2012, avoiding the DL and making 31 starts.  Johnson didn't pitch at his previous ace level, but he re-established enough hope to be a major part of the November blockbuster with Toronto.
As mentioned in the introduction of this post, Johnson endured separate injuries in 2013 involving his triceps and elbow, culminating in surgery.  He made a lot of bad pitches, allowing 11.6 hits and 1.66 home runs per nine innings, leading to a career-worst 6.20 ERA in 81 1/3 innings.   Even if we give him a pass for Tommy John surgery early in his career, Johnson has had three healthy seasons in the last five.  He hasn't had an ace-caliber healthy season since 2010, calling into question whether he can return to that level for 180 innings.  After 2013, his ability and durability must be questioned.  With only one 200-inning season in his career, Johnson is the polar opposite of a dependable, low-upside arm like Bronson Arroyo.
Personal
Josh is married with two children, and they reside in Las Vegas during the offseason.  He's a big golfer who plays to a 1 handicap.
Market
Sosnick told MLBTR Johnson loved playing for Blue Jays manager John Gibbons, and bought into the vision of GM Alex Anthopoulos.  The pitcher has interest in returning to the Jays.  If a reunion doesn't happen, pretty much any team could explore a deal, since the risk will be limited to one year.  The Cubs, Rays, Mets, Rangers, Pirates, Nationals, Twins, Indians, and Athletics are some teams that have shown a willingness in recent years to sign free agent starting pitcher projects.
Expected Contract
A one-year deal free of options is in the cards for Johnson, as he aims to rebuild value with a healthy 2014.  The gold standard contract for a pitcher coming off an injury is the one-year, $10MM deal Ben Sheets signed with the Athletics after missing all of 2009.  Though that contract is almost four years old, I see it as the ceiling for Johnson.  Ultimately, I predict a one-year, $8MM deal, with significant incentives in the $4-6MM range.
Photo courtesy of USA Today Sports Images.