The Diamondbacks announced that they have acquired Addison Reed from the White Sox in exchange for third baseman Matt Davidson. MLB.com's Steve Gilbert first reported that the trade was on the verge of happening (on Twitter).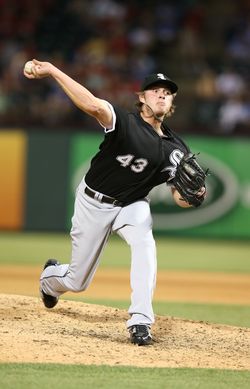 Reed, 24, has saved 69 games for the White Sox over the past two seasons, posting a 4.20 ERA with 9.0 K/9 and 2.9 BB/9 in 126 1/3 innings in that time. Sabermetric stats such as FIP (3.38) and SIERA (3.33) feel that Reed's ERA should have been substantially lower in that time. The Diamondbacks will control Reed through the 2017 season and he is not arbitration eligible until next offseason, making him a highly affordable piece to add to the back-end of their bullpen.
Davidson, 23 in March, made his big league debut in 2013, slashing .237/.333/.434 with three homers in 87 plate appearances. The 2009 supplemental-rounder entered the 2013 campaign ranked as Baseball America's No. 88 overall prospect and MLB.com's No. 77 overall prospect. Davidson delivered on that praise by slashing .280/.350/.481 with 17 homers in 500 plate appearances prior to his promotion to the big leagues. He is controllable through the 2019 season and can't reach arbitration eligibility until at least the 2016-17 offseason.
Reed will step into the ninth-inning role for the Diamondbacks, relegating J.J. Putz and Brad Ziegler to setup duties. Arizona GM Kevin Towers has added some youth to his bullpen while shedding the salary of Heath Bell over the past week.
Davidson, meanwhile, can fill a long-term need for the White Sox, ideally solidifying third base for the South Siders for years to come. White Sox third basemen batted .249/.294/.352 last season, so Davidson should eventually displace the projected platoon of Conor Gillaspie and Jeff Keppinger. He will join an increasingly young core for the White Sox consisting of Avisail Garcia, Adam Eaton and Jose Dariel Abreu.
Arizona's acquisition of Mark Trumbo last week (a trade on which Towers and White Sox GM Rick Hahn also lined up) pushed Martin Prado back to third base on a full-time basis for the Snakes, likely leading to the belief that Davidson had become expendable (Prado is under contract for three more seasons). The White Sox could look to the free agent market to add any number of closer-types available, or they could elect to stay in-house and use flamethrower Nate Jones in the ninth inning.
Photo courtesy of USA Today Sports Images.