Few pegged the Marlins to land any top free agents this offseason, but they landed one of the top catchers on the market by inking South Florida native Jarrod Saltalamacchia to a three-year contract reportedly worth $21MM.  Miami officially announced the three-year deal on Friday.  Saltalamacchia is represented by Munsey Sports Management, as shown in the MLBTR Agency Database.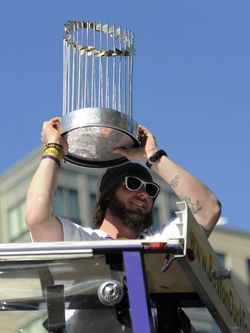 Saltalamacchia, 28, also had serious interest from the Twins and some degree of interest from the Rangers, though they seem to have shied away from the idea of a reunion in recent days.  With Brian McCann off the board, Salty was the top remaining catcher on the free agent market.  On top of that, the former Red Sox backstop had extra appeal with nearly every other starting-caliber backstop already off the board.  The switch-hitter batted .273/.338/.466 with 14 homers last season, but he also struck out in nearly 30 percent of his plate appearances and posted just a .628 OPS as a right-handed batter.  Among all players with 400 plate appearances in 2013, Saltalamacchia's 29.6% strikeout rate is the ninth-worst.
Another one of Saltalamacchia's biggest drawbacks is his difficulty in hitting left-handed pitching, with a .206/.269/.338 line since 2011.  Saltalamacchia is below average at throwing out attempting basestealers and preventing them from trying, according to FanGraphs.  His caught stealing percentage of 21.2% was second-to-last among qualified catchers this year.  Saltalamacchia has typically about average in terms of pitch framing, though he was slightly below average in that regard in 2013.
There may be no team that needed a catching upgrade more than the Marlins.  Miami catchers combined to bat .192/.249/.280, which translated to a league-worst wRC+ (weighted runs created plus) of 43.  Fangraphs pegged Miami catchers at -1.8 wins above replacement — also the worst mark in all of Major League baseball.
As Mike Berardino of the St. Paul Pioneer Press  (Twitter link) pointed out earlier prior to the agreement, the Marlins might have had a leg up on Minnesota in their chase for Salty.  Not only do Saltalamacchia and his family reside in Wellington, Fla. (less than 70 miles from Marlins Park), the state has no income tax, meaning the Twins might have had to outspend the Marlins by a significant margin to win out.
The Red Sox would have liked to have Saltalamacchia back in the fold, but they were reportedly unwilling to go beyond two years for a catcher.
Patrick Saunders of the Denver Post first reported that Saltalamacchia was likely headed to the Marlins (Twitter link). Juan C. Rodriguez of the Miami Sun-Sentinel first reported that the agreement was in place (on Twitter). The Miami Herald's Clark Spencer reported the year-to-year breakdown (also on Twitter).
Steve Adams contributed to this post.  Photo courtesy of USA Today Sports Images.