JAN. 27: Joel Sherman of the New York Post tweets some more specifics on the breakdown of Balfour's contract. Balfour's $5MM in 2014 will come in the form of a $1MM signing bonus and a $4MM salary. He will receive an additional $500K if traded, and $2MM is deferred in each year of his contract.
JAN. 23, 6:00pm: Marc Topkin of the Tampa Bay Times reports that Balfour will earn $5MM in 2014 and $7MM in 2015 (Twitter link).
3:19pm: The Rays have officially signed reliever Grant Balfour to a two-year, $12MM deal. Balfour returns to the organization with which he had both his best (2008, 1.54 ERA) and worst (2009, 4.81 ERA) seasons as a big leaguer.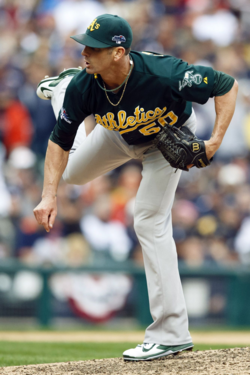 Of course, the ACES client had an earlier agreement in place with the Orioles for two years and $15MM, which was blown up when Baltimore found issues with the reliever's physical. The Aussie will nevertheless throw in the AL East after agreeing to terms with Tampa. (It is worth noting that the Rays' team doctor was one of those who said there were no issues with Balfour's right shoulder, though the Orioles apparently had different reasons for concern with the medicals.)
As MLBTR's Steve Adams wrote in profiling Balfour earlier in the offseason, the righty struck out batters at an impressive rate of 10.8 K/9 in 2013. Though the 36-year-old's fastball velocity has dipped since he worked around the 95 mph mark in his excellent 2008 season with Tampa, he still brings his heater at above 93 mph on average.
Ultimately, since a tough 2009, Balfour has been outstanding at keeping opposing runners from crossing the plate. Over the 2010-13 seasons, Balfour has maintained a 2.47 ERA in 254 2/3 innings, with an average of 9.2 K/9 against 3.3 BB/9. He has been a model of consistency over that time frame as well, as his ERA has not strayed above the 2.59 mark.
Balfour faced a tough market situation even before his ill-fated pact with Baltimore. With several other big-name, late-inning relievers on the market, it was clear early on that some good arms would be left unable to max out their earnings. As the list of free agent closers shows (via MLBTR's Free Agent Tracker), Balfour slots in between the two-year deals of Joaquin Benoit ($15.5MM from the Padres) and Edward Mujica ($9.5MM from the Red Sox). Interestingly, he falls well shy of the $19MM guarantee handed by the Dodgers to Brian Wilson, who only threw 19 2/3 innings last year (including the post-season) after missing almost all of 2012-13 due to Tommy John surgery.
Andrew Rickli of SportsReel Boston first reported the deal (via Twitter). Marc Topkin of the Tampa Bay Times first tweeted the final contract terms, while Jeff Passan of Yahoo Sports first tweeted that the deal was expected to land in the two-year, $12MM range. 
Photo courtesy of USA Today Sports Images.