Though he's yet to throw a pitch in the Major Leagues, the Yankees committed a massive $175MM to sign 25-year-old righty Masahiro Tanaka in January.  $20MM of that went to his old team, the Rakuten Golden Eagles, with $155MM going to Tanaka.  Tanaka's contract is the third-largest ever for a pitcher in MLB history, topped only by Clayton Kershaw's new extension with the Dodgers and C.C. Sabathia's 2008 free agent deal with the Yankees.  Like those deals, Tanaka's includes an opt-out clause.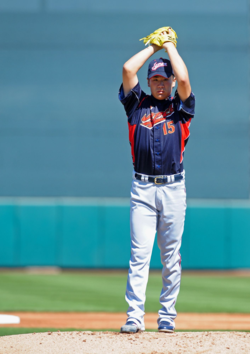 Tanaka comes to MLB for the 2014 season after posting what many scouts refer to as "video game numbers" in Japan last year: a 24-0 record and a 1.27 ERA in 212 innings.  Last Friday, Yankees GM Brian Cashman did his best to temper expectations for Tanaka in a conversation with ESPN's Ian O'Connor.  Cashman said he expects the pitcher to have growing pains in the States, and asked his ultimate upside two or three years down the road, the GM said Tanaka "has the potential to be a really solid consistent number three starter."  Free agent salaries continue to rise, but I don't think the Yankees would spend that kind of money on a pitcher they thought might become a number three a year or two before his opt-out clause comes up. 
Unbiased opinions were needed.  To get a feel for Tanaka's repertoire and approach, injury risk, and overall ability, I spoke to high-ranking officials with scouting-related positions for four MLB teams (referred to simply as "scouts" later in this article).  Each has seen the pitcher in person extensively, and none work for the Yankees.
Before we begin, here is a refresher on the 20-80 (or 2-8) scouting scale from Kevin Goldstein, formerly of Baseball Prospectus: "A score of 50 is major-league average, 60 is above-average (also referred to as "plus"), and 70 is among the best ("plus-plus"). 80 is top of the charts, and not a score that gets thrown around liberally."  For more information on scouting pitchers from Goldstein, click here.
Scouting Report: Three Plus Pitches
Tanaka's fastball typically sits between 91-93 miles per hour, with the ability to touch 96 mph.  Most of the scouts to whom I spoke graded his fastball as a 6, or plus, though one put a 70 on the heater.  One scout praised his fastball in saying he throws a "heavy ball," though two others noted the pitch can get flat or straight at times.  One of those two said Tanaka's fastball is "probably his most hittable pitch, in a way."
Scouts agreed Tanaka has a second or third gear for his fastball.  In Japan he'd often be in "cruise control" for the first half of the game, ramping his fastball up into the mid-90s later if he needed to.  Noted one scout who loves Tanaka, "When they're in Japan, they don't have to throw their best stuff because the league's not as good."  That figures to change for Tanaka in MLB, given the deeper lineups.
Tanaka clearly had plus-plus control in Japan, with walk rates below two per nine innings in each of the last four seasons.  Scouts feel that will translate to plus in the States.  Grading Tanaka's command, one scout said "60 or 70," another went with 55, and one gave a 5.  The most pessimistic scout elaborated, "I actually thought with the offspeed stuff, the splitter and the slider especially, I thought there was more command of those pitches. And I thought with the fastball he definitely threw strikes to an above average level but I thought the command, pinpointing it, was just average."  When Tanaka does get into trouble in MLB, there's a good chance it will be the result of throwing hittable fastballs.  
Next is Tanaka's splitter, by most accounts a nasty pitch.  One scout put an 8 on it, suggesting if you don't put an 8 on this particular pitch, then you might be the type who never gives out 8s.  He explained, "It's not a tumbling pitch. It's more of a disappearing fastball. It's not a Contreras splitter that comes out and kind of flutters."  Two others put 7s on the splitter, though one dissented with a 6.  That person admitted the split "could be plus-plus," but unlike his peers, he feels Tanaka's best pitch is his slider.
The lone scout who prefers the slider explained, "I think it's a true slider with a good tilt, he would get depth to it more than ones that are plus-plus." He feels the slider has a slight lead over the splitter, noting the slider has been Tanaka's pitch since his high school days.  With the other scouts, Tanaka's slider received a 6 across the board.
It is generally agreed that Tanaka's fastball, splitter, and slider are plus pitches, and he'll get strikeouts with each.  For a change of pace, he also throws a slow curveball, described by one scout as "useful."  This pitch grades in the 45-50 range.  Tanaka's ability to throw this pitch for strikes allows him to pitch backward if he chooses.  Typically, though, Tanaka's approach is aggressive, as one scout explained: "He pitches inside, he doesn't pitch away from contact a lot. Some guys in Japan, they're not as aggressive. He has more of a Western style that he's not afraid to go up and in, he's not afraid to pitch inside. He pitches kind of with a little chip on his shoulder."
Reduced Strikeout Rate: Red Flag?
Though he posted a 1.27 ERA, Tanaka struck out only 7.8 batters per nine innings last year in Japan.  That mark was his lowest since 2010.  While one scout admitted, "It's certainly not a positive," all agreed the reduced strikeout rate is not a cause for concern.  Explained another, "He's the type of guy that if he wants to, he can go out and strike out hitters. He's a brilliant, smart pitcher and he's not afraid to pitch to contact. I saw him doing that a lot that last couple years. That's one of the reasons he was able to stay efficient with his pitch counts."  Throw in MLB lineups that are much more prone to swinging and missing, and there's good reason to believe Tanaka will whiff more than 7.8 per nine in 2014.
Heavy Workload: Cause For Concern?
In December, multiple MLB executives expressed concern to Yahoo's Jeff Passan regarding Tanaka's high pitch counts.  The righty averaged about 110 pitches per regular season start in 2013, with seven outings in excess of 122 and a high of 136.  Most famously, Tanaka threw 160 pitches in a Japan Series game and another 15 the next day in relief.  In total, he threw 1,315 innings through his age-24 season, which hasn't happened in the Majors since the mid-70s, according to SI's Tom Verducci.  Perhaps the GMs and owners calling the shots were worried about Tanaka's high pitch counts, but most of the scouts we talked to brushed it off.
"He's been trained for that his entire life," remarked one.  Another noted his durable, solid body and suggested he's someone who might be able to handle throwing a lot of pitches.  One scout noted that while it's obviously not a great idea to throw 160 pitches in a game, Japanese pitchers typically get six or seven days rest between starts, making the total mileage similar to MLB starters.  None of the four feel that Tanaka's injury risk exceeds that of a typical MLB starter.  Keep in mind, however, that the chance of going on the disabled list for the average MLB starter is around 39% for 2014, based on research from Jeff Zimmerman for FanGraphs.
Tanaka's Overall Projection
In a tweet last month, Joel Sherman of the New York Post said the comparables he's heard most often for Tanaka are Hiroki Kuroda and prime-age Dan Haren, plus reliever Bryan Harvey for his splitter.  One scout agreed with the Haren comp, noting that Tanaka has more arm strength.  Others cited Zack Greinke and Matt Cain.
In terms of placing an overall grade on Tanaka, opinions ranged, but all were quite positive.  One scout, who admitted being "toward the higher end of the spectrum," described Tanaka as a number one starter, without hesitation.  He expects Tanaka to contend for the Cy Young, and feels he'll be one of the ten best starting pitchers in MLB in 2014.
The other three scouts placed Tanaka in a slightly lower tier, ranking him in the #15-25 range among all MLB starters for 2014.  Two of them described him as a number two starter.
The mystery of how Tanaka will perform in Major League Baseball should be resolved in short order.  He'll face MLB hitters in Spring Training later this month, and could have a bit of a soft landing with the Yankees' first three regular season games coming in Houston in early April.
RELATED READING