The Angels' level of spending did come anywhere near that of the previous two offseasons as the club worked to avoid luxury tax penalties by adding a pair of young arms via trade.
Major League Signings
Notable Minor League Signings
Brennan Boesch ($800K if he makes the club), Brandon Lyon ($1MM), Yorvit Torrealba ($950K), Mark Mulder ($1MM — since released), Joe Martinez, Chad Tracy, Carlos Pena, Ian Stewart, John McDonald, Clay Rapada, Wade LeBlanc
Extensions
Trades and Claims
Notable Losses
Needs Addressed
The Angels entered the offseason with a clearly stated purpose: acquire young, controllable starting pitching without breaking the bank — and thereby incurring luxury tax penalties — in order to do so. Plan A may have been Matt Garza, as reports indicated that the eventual Brewers hurler first received a four-year, $52MM offer from the Halos. Garza confirmed the offer, adding that he was on vacation with his wife at the time of the offer and said he didn't want to think about his contract at that point. By the time his vacation was over, Anaheim had pulled the offer. (Garza would sign for $2MM less but with Milwaukee but the opportunity to earn up to $67MM via incentives and an option.)
And so, the Angels turned to the trade market in order to bolster the starting five. Despite having one of the game's worst farm systems (a result of sacrificing numerous first-round picks to sign the likes of Albert Pujols, Josh Hamilton, C.J. Wilson and others), GM Jerry Dipoto was able to accomplish this feat by trading Trumbo to the Diamondbacks in a three-team deal.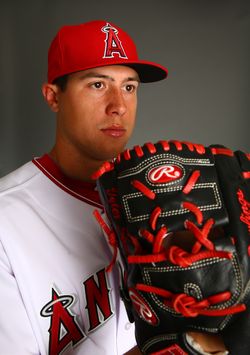 In Skaggs (pictured), Dipoto acquires one of the pitchers he acquired while serving as Arizona's interim GM in the trade that sent Dan Haren to the Angels. The former Top 10 prospect struggled in 2013 due to diminished velocity but looks to have regained some of that missing heat in 2014 already — a promising turn of events for Angels fans. Some view Santiago as a reliever and feel his ERA is a mirage thanks to his substandard command. His ERA may be misleading, but even if Santiago can pitch at a mark near his 4.49 career FIP, the addition of him and Skaggs could benefit the Halos for years to come. As fly-ball pitchers, both should benefit from an outfield anchored by Mike Trout in center.
The outfield defense would've been stronger, but Dipoto & Co. saw fit to dispatch Bourjos and former first-rounder Grichuk to St. Louis in exchange for Freese and Salas. Freese is a decent bounce-back candidate but has long had health questions. He could provide an upgrade in Anaheim, as Angels third basemen slashed just .249/.308/.332 as a whole, but he has just two years of team control remaining to Bourjos' three and is considerably more expensive. Salas has pitched at replacement level since a strong 2011 and doesn't figure to benefit from the move to the American League. He'll look to join a bullpen that posted the fifth-worst combined ERA in all of baseball last season (4.12).
It was that underwhelming performance that led the Angels to aggressively pursue Smith — a former righty specialist who has shown a great deal of improvement versus left-handed hitters in recent years. However, as broken down by MLBTR's Tim Dierkes at the time of the signing, Smith doesn't have elite control, doesn't miss many bats and had his excellent 2013 propped up by an unsustainable strand rate. While his ground-ball tendencies are strong, one wonders if the Angels would have been better suited to wait out the relief market and sign a cheaper arm. Doing so would have allowed them to add a safety net such as Paul Maholm or Chris Capuano on a minor league deal, should Skaggs, Santiago or Garrett Richards need minor league time or should Wilson or Jered Weaver hit the disabled list.
Questions Remaining
While the additions of Skaggs and Santiago give the Angels a serviceable pair of lefties to round out the rotation, the duo doesn't come without risk. Skaggs has his velocity back, but he's yet to so much as sniff big league success, as reflected by his 5.43 ERA in 68 career innings. Santiago's never topped 149 innings in a professional season, and even Richards, the incumbent third starter, has never topped 157 innings (2011). Joe Blanton offers depth to absorb some starts, but his signing has proven to be an abject bust to this point, and there's little Major League ready depth beyond right-hander Matt Shoemaker and non-roster invitee Wade LeBlanc. All of this makes the decision to non-tender Williams — who was projected by MLBTR contributor Matt Swartz to earn just $3.9MM — rather puzzling. The veteran swingman could've served as a nice insurance policy given the likely presence of three starters who aren't used to shouldering this type of workload in manager Mike Scioscia's rotation. Instead, the Angels have considered carrying an extra reliever due to rotation questions, as Mike DiGiovanna wrote earlier in the spring.
Among the club's established players, it's a gross understatement to say that health will determine the fate of this club. Albert Pujols missed 61 games and was hobbled by plantar fasciitis even when in the lineup, leading to the worst season of his career. Josh Hamilton's home run power went missing as he played through a variety of minor maladies without ever hitting the disabled list. He also continued the concerning trend of whiffing in roughly a quarter of his plate appearances. Freese missed significant time with persistent back issues, and Erick Aybar hit the DL for a third straight season.
Despite the addition of Smith, the bullpen lacks much in the way of reliable relievers. Ernesto Frieri has emerged as a solid, albeit erratic ninth-inning arm, but the rest of the relief corps will be comprised of Dane De La Rosa, Kevin Jepsen and Sean Burnett (who missed nearly all of 2013). Beyond that, names like Cory Rasmus, Michael Kohn, Salas and Moran will be fighting for spots.
Also worth some degree of concern is the lost power with the departure of Trumbo. The Halos will attempt to recoup some of that pop through the 41-year-old (42 in June) Ibanez, who clubbed 29 homers with the Mariners in 2013. However, Ibanez also posted just a .306 OBP (not that Trumbo was better in that regard) and wilted in the season's second half last year, slashing just .203/.295/.345 with a mere five of his 29 homers. The Angels seem to be counting on him as their everyday DH, but they could be in trouble if his post-All-Star-break form of 2013 was a portent of things to come. A rebound from former first-round pick C.J. Cron in the minors would give them a nice alternative, but the upper levels of their farm system doesn't carry much in the way of impact bats.
Deal of Note
It seems silly that when discussing a team as deep-pocketed as the Angels — they of $240MM and $125MM commitments to Pujols and Hamilton in 2011 and 2012 — the "deal of note" would be a mere $1MM signing. However, when that one-year, $1MM contract is issued as a sign of good faith to the game's best player, it carries some weight.
The Angels gave Mike Trout the largest salary ever for a pre-arbitration player that wasn't on a Major League deal coming out of the draft — a far cry from the meager $510K salary he received following his MVP runner-up in 2012. Trout and the Angels are said to be discussing an extension that could span six years and begin in 2015 (so as to avoid luxury tax implications for the coming season). Trout has gone on record as stating that he's fine with discussing a new contract once the season begins, so there's no rush for the Angels to get a deal done.
However, another MVP-caliber season that positions Trout for a record-setting payday could arguably be a bigger risk for the Angels than signing him to a record-setting extension right now. A third consecutive historic season might be enough to convince Trout that he's better off going year to year through the arbitration process and hitting the open market in search of baseball's first $300MM (and perhaps even $400MM) contract as a 26-year-old.
Overview
The Angels have three players on their active roster who have been considered among the game's five to 10 best hitters within the past three years in Trout, Pujols and Hamilton. As such, it would be a mistake to completely write this team off despite the poor performance of the latter two in 2013. A rebound from Pujols and/or Hamilton would drastically alter the perception of this team, particularly in light of injuries suffered by the Athletics (Jarrod Parker) and Rangers (Derek Holland) that will undoubtedly impact their seasons.
However, the uncertainty that shrouds those fading stars could be applied to the entire team. Will Freese stay healthy? Can their rotation succeed with a trio of starters that have never even reached 160 innings in a season? Does Trout have another 10-WAR season in him? Will a largely unproven bullpen be able to hold the leads it inherits?
When it comes down to it, the Angels have a big-market payroll but many of the question marks typically associated with a mid- to small-market club. Contention is a long shot, but if their big guns rebound, the rest of the division had best be on full alert, because the Angels possess enough star power to make a run if things break their way.
Photo courtesy of USA Today Sports Images.