The Tigers have signed star slugger Miguel Cabrera to a major long-term contract extension, the team announced.  On top of the two years and $44MM he is already owed under a prior extension, Cabrera will be under contract for an additional eight years and $248MM, with two more years possible via successive vesting/club options. All said, the Tigers will field the two-time American League MVP through at least the 2023 season, his age-40 campaign.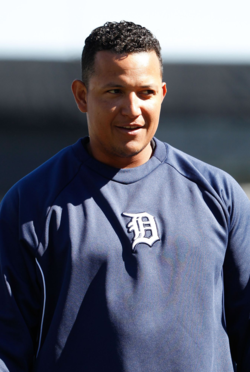 With those numbers, the deal would set several high-water marks. Most notably, an average annual value of $31MM would top the newly-minted record of $30.7MM set in the Clayton Kershaw extension. The figure of $248MM in new money would represent the the third-largest single contract in MLB history (and the biggest contract given to anyone other than Alex Rodriguez). With ten years and $292MM in overall future commitments to Cabrera, the Tigers stand to owe him more than any team has ever owed a single player at any point in time, besting the ten-year, $275MM Rodriguez contract in that respect.
And that is all before factoring in the deal's two vesting options, which could add two additional seasons at $30MM apiece.  Each of those options vest only if Cabrera finishes amongst the top ten of the MVP vote in the year prior. 
The deal is slightly backloaded, as Cabrera will earn $28MM in 2016 and 2017, $30MM a year over 2018-21, and $32MM for both of 2022 and 2023. Cabrera can also rack up significant additional earnings through a host of performance and awards bonuses, including $2MM for each MVP award.
The Relativity Baseball client, who turns 31 in April, has been the game's most consistent force at the plate for at least the past four seasons. Over those campaigns, Cabrera has logged successive OPS+ figures of 178, 179, 164, and 187. Of course, in the "down" year of 2012, he also managed to secure a Triple Crown. 
Cabrera's current deal — an eight-year, $152.3MM extension — has paid off handsomely for Detroit. The Venezuelan slugger has racked up a cumulative .327/.407/.588 triple-slash and 227 home runs over that deal. He leads the bigs in homers and slugging percentage over that time, is a close second in average to Joe Mauer, and lands fourth in OBP. And, yes, he is comfortably ahead of all other players with 737 RBI in the same term.
Cabrera is set to shift back to first base after spending the last two seasons at the hot corner. Though advanced defensive metrics have not loved his glove on either side of the diamond, they generally prefer his work at first. Unsurprisingly, the 6'4", 240-pound Cabrera has not been valued as a plus on the basepaths, though neither has he been a serious negative in that area of the game. 
While there has been some controversy over Cabrera's successive AL MVP awards, given that his contributions come almost exclusively at the plate, there is no doubting his offensive prowess and status as one of the game's few truly elite players. Indeed, he has accumulated a healthy 36.4 rWAR and 35.1 fWAR over his time in Detroit.
The question remains, however, whether he can continue that remarkable pace well into his thirties. Though Cabrera has certainly shown no signs of slowing in the immediate term, he is already under contract for two more years. That deal takes him trough his age-32 season, so any new guaranteed years would be buying out his age-33 campaigns and beyond. 
Cabrera's extension is not only larger, but starts at an older age than other recent comparables. The biggest free agent deals for first basemen are the ten years and $240MM given to Albert Pujols and the nine-year, $215MM Prince Fielder contract. On the extension side, Joey Votto's ten-year deal guaranteed him $225MM in total. The Cabrera deal covers his age-33 to 40 seasons. Pujols signed on for his age-32 through 41 seasons, while Fielder's contract runs from his age-28 to age-36 years and Votto's deal (inked while he still had two years left on his original extension) goes from age 30 to 39.
Viewed in this light, the staggering overall commitment is fraught with risk. Needless to say, the Pujols contract looks to be a bad one at this point. And while it is easy to say that Cabrera represents a better risk at this point, he is not on the kind of all-time-great pace as was Pujols when he inked his deal. To be fair, Pujols was coming off of a year in which he posted a personal-low 147 wRC+ and was valued at 4.4 fWAR, but before that he had posted ten straight seasons with at least a 150 wRC+ and 7 fWAR tally. Cabrera, on the other hand, is coming off of his best-ever season in terms of wRC+ (a remarkable 192 mark), but peaked at 7.6 fWAR. His early-career history features less outstanding seasons at the plate than Pujols had, and Cabrera has only topped 6 fWAR in five seasons due to his lesser contributions in other aspects of the game.
Most importantly, of course, Pujols was a free agent while Cabrera is still two years away from the open market. If anything, the fact that Pujols had a season that hinted at decline before landing his deal is reason for further wariness with respect to a pre-free agent commitment to Cabrera. To be sure, the Tiger is a great player. But it is difficult to see this deal creating surplus value for Detroit, and rather easy to see how it could end up working out poorly for the club. With that in mind, why didn't the team wait at least another year before moving to lock down Cabrera?
Jon Heyman of CBSSports.com first reported that the sides were close and that a deal had been reached (via Twitter). Jon Morosi reported (via Twitter) that the deal was for eight years and approximately $248MM. ESPN.com's Jerry Crasnick reported that the deal would extend the total commitment to ten years and just under $300MM (links to Twitter). Chris Cotillo of MLBDailyDish.com first suggested the $292MM total commitment figure on Twitter. Heyman reported the presence and value of the vesting options (via Twitter), and reported the final contract breakdown (Twitter links) and bonus provisions (Twitter links).
Photo courtesy of USA Today Sports Images.