SATURDAY: The PTBNL in the deal is likely to be a 2013 draft pick, Heyman tweets. He also notes that that player, and not Thornton, is the "key piece." 2013 picks will not be eligible to be traded until the summer.
FRIDAY 6:22pm: The PTBNL is "fairly significant," tweets Jon Heyman of CBSSports.com. It is worth bearing in mind, as Adam Rubin of ESPNNewYork.com points out on Twitter, that 2013 draft picks still cannot technically be included in a deal.
5:45pm: A long-awaited deal has finally been struck, as the Mets officially dealt first baseman Ike Davis to the Pirates in exchange for minor league righty Zack Thornton and a player to be named later. A deal involving the struggling Davis has long been rumored, with the Pirates long said to be a likely trade partner.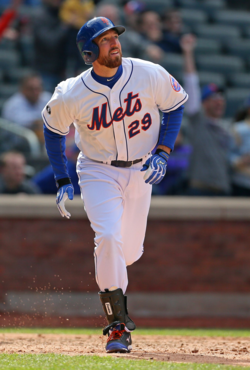 For New York, the departure of Davis means that the club will move ahead with Lucas Duda as its regular first baseman, a role that he had taken on early in 2014. It also marks the end to an ultimately disappointing tenure in New York for the 27-year-old, left-handed hitting slugger. 
Meanwhile, the Pirates will take on the $3.14MM left on Davis's 2014 salary, and will control his rights via arbitration through 2016. Davis will presumably work in some form of platoon with the right-handed hitting Gaby Sanchez, who the club picked up after he too took steps backward after a promising early career.
Once a top-100 prospect, Davis raised expectations with a strong rookie campaign in 2010, in which he hit .264/.351/.440 with 19 home runs over 601 plate appearances at age 23. He was off to a hot start the next year, hitting .302/.383/.543, before he was sidelined with ankle issues. Before the 2012 season, Davis reportedly contracted valley fever, but nevertheless managed to hit 32 long balls in 584 trips to the dish. But his OBP dropped to .308 that year, and he has not returned to form since. Over 407 MLB plate appearances in 2013-14, Davis has just a .205/.329/.337 line with 10 home runs and a rising strikeout problem (he reached a career-high 26.8% K% last year.)
Thornton is a 25-year-old reliever who was working in Triple-A this season after reaching that level late last year for the first time. He did not appear on Baseball America's list of the Bucs' top prospects this year or last year. Pittsburgh acquired Thornton in exchange for Chris Resop in May of last year. According to Thornton's profile on PiratesProspects.com, he has been much more effective against same-handed hitters in his minor league career.
As the profile also notes, Thornton was left unprotected in this year's Rule 5 draft but was not selected even after a good showing in the Arizona Fall League. While he should provide depth to a struggling Mets pen, he seems a disappointing return for a player of Davis's former promise. It remains to be seen, of course, whether the PTBNL can bring additional value to the Mets.
Jon Heyman of CBSSports.com first tweeted that a deal was in the works. Chris Cotillo of MLBDailyDish.com (Twitter links) first reported that the deal was done, and that one or two prospects would head back to New York.