MLBTR is re-launching its Draft Prospect Q&A series this season in order to give our readers a look at some of the top names on the board in this year's draft. MLBTR will be chatting with some of the draft's most well-regarded prospects over the next couple of weeks as they prepare for the 2014 draft on June 5-7.
This season, LSU powered their way to the Regional Final round of the NCAA Tournament thanks in large part to the pitching performances of ace Aaron Nola.  While the Tigers were eliminated on Monday night by Houston, the 6'2″, 195 pound right-hander is on the verge of realizing his lifelong dream in Thursday night's draft.  Nola has probably been baseball's most dominant pitcher over the last two seasons and appears to be a lock for the top ten.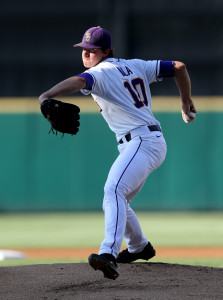 With a laser-guided 95 mph fastball, a plus curveball, and an ever-improving changeup, Nola pitched to a 1.57 ERA with 8.71 K/9 and 1.29 BB/9 in his sophomore season.  For an encore, he followed that up with a 1.47 ERA, an even stronger 10.37 K/9, and a still stingy 2.09 BB/9 in 2014.  In short, Nola has been absolutely stellar over the last two years for the Tigers and is viewed as one of the most surefire talents in this year's class.
It's safe to say that Nola is more familiar with the draft process than 99% of prospects out there.  The righty was picked by the Blue Jays in 2011 and watched his brother Austin, a talented shortstop, get drafted twice before signing with the Marlins, who selected him in the fifth round of the 2012 draft.  Reportedly being advised by Joe Longo of Paragon Sports, Nola is ranked No. 6 by MLB.com, No. 7 by Baseball America, and No. 10 by ESPN.com's Keith Law.  On Tuesday, Nola took time out of his busy schedule to talk with MLBTradeRumors about his impressive body of work and what he'll bring to the table at the major league level:

Zach Links: You powered your team to a big win on Saturday despite some bad breaks in the second inning and getting in a bases loaded jam with the score tied 1-1.  We've seen that from you at other points this season, where you might encounter some brief trouble but you always find a way out.  How do manage to stay zeroed in when things get dicey?
Aaron Nola: For me, it's all about slowing things down.  When guys get on base, I put the game in front of me, slow everything down, focus a little more, and try not to let the game get out of control.
ZL: Even though LSU's season ended on Monday night, how much did it mean to you to go out with a deep postseason run?
AN: We've been playing our best baseball these past couple of weeks and that's the time we needed to get hot.  We were good and everything was going our way but we were ahead in the third game [of the Regionals], we slipped, and Houston capitalized on it.  It's unfortunate that we couldn't have gone even further.
ZL: With so much talk surrounding you on an individual level, how have you managed to tune out all of the talk about your own individual performance and draft stock and focus on winning?
AN: Talking to my brother [Austin] about going into the draft and handling the draft helped a lot.  He went through all of that when he was in college and he gave me some input and some advice on how to handle it.  He basically told me not to worry about this stuff, that the draft is going to take care of itself.  I'm going to be happy wherever I go.  All season long I was playing for my team and trying to help them go as far as possible.
When Austin was going through the draft process, each time, he handled it really well.  We were in the Super Regional in 2012 and we were all at practice when he got the call that he was drafted.  We were all so excited for him, but his focus was still on helping the team win.
ZL: Did you ever feel extra pressure on the mound knowing that scouts were in attendance?
AN: No, I mean, I didn't see any of them in the stands really.  I saw a couple of them but usually we're playing in a place with a lot of fans.  I'm pretty good about concentrating on getting guys out and not looking up in the stands.  I always played my game and I didn't try to light up the radar gun to impress people like a lot of guys do.
ZL: What do you attribute your low walk rate to?
AN: I've always been accurate since we all know the strike zone gets smaller and smaller.  Our coach stresses that we throw the ball in the zone, go after the hitters, and don't pitch passively.  That's what we do and we don't walk too many guys.  We stay in the strike zone and pitch aggressively.
ZL: Have you always had exceptional command or has that come along in the last few years?
AN: Since I've been pitching I've had pretty good command but it has gotten better over the years.  Part of that comes from working with [LSU pitching coach Alan Dunn] who taught me a lot about the game and what you need to do.  Back in my freshman year, I threw too many strikes and my sophomore year I learned how to get the ball where it had to be.  This year it was kind of the same thing.
ZL: The Twins drafted your old rotation mate, Ryan Eades, in the second round last year, and they've been heavily connected to you heading into the draft.  What would it be mean to pitch with him again?
AN: That would mean everything.  I'm blessed to be drafted anywhere but I would be excited to go there and to play with Ryan, that would be awesome. I pitched with him for a bit at LSU and I've known him for three or four years and he's a great kid.  He's going move up in that organization and he's just a positive guy to be around.
ZL: You've said that you'll be happy wherever you land, but without naming teams, are there clubs in the top ten that stand out to you above others?
AN: No, like I said, wherever I go, I'm going to be thankful that that team drafted me and we don't know anything about the draft really where you're going to go.  Whoever gets picked before me, they deserve it, they're obviously great players and they'll do great for their organization.  Wherever I get picked, I'm going to enjoy myself and do my best for my team.
ZL: Your 2-seam fastball and curveball get a ton of attention but you also boast a strong changeup.  When did you first start to really get that pitch down?
AN: I had my changeup my freshman year a little bit at the beginning, but it kind of died off, honestly.  Last year I was more of fastball/curveball guy and I worked on my changeup a lot in the fall this year.  For me, it was more about throwing it a lot and getting a better feel for it.  I think it has improved quite a bit over the last few years.
ZL: Some scouting reports have expressed concern about your 3/4 arm slot.  Is that warranted at all?
AN: I don't think it is.  I've been throwing with this arm slot my whole life and I've never used a different style.   It's been that way my whole life and I'm comfortable doing what I'm doing.  I haven't had any serious arm problems at any point and hope that I never will.
ZL: Do you feel like you have a better handle on pitch sequencing than your average college pitcher?
AN: Our pitching coach calls all our pitches but he teaches us why we throw certain pitches in certain counts and also encourages us to go with what we feel instinctively.  I feel like I can call my own game because of all of the things that he's taught me.
ZL: Did you give real thought to going pro when the Blue Jays drafted you in the 22nd round of the 2011 draft?
AN: I think I would have had to go pretty high, but after seeing Austin turn down offers twice to make a career at LSU, that's what I wanted to do.  I also wasn't ready to make that next step from high school to pro ball and Austin has zero regrets about going to college.  So, I'm glad I made the decision to go to LSU.  I feel like I've become a better person and a better player.  I'm stronger, both physically and mentally.
ZL: You turn 21 [today] – first of all, Happy Birthday – will being a top draft pick on Thursday be the best birthday present you've ever gotten or is there a moonwalk birthday party from ten years ago that tops that?
AN: [laughs] This will be a pretty good birthday present for me, to be honest with you, this is a pretty big one.  My life changes on Thursday and for me and my family this is a big moment for us, this is special.  This is definitely going to rank as one of the best birthdays ever.
Photo courtesy of USA Today Sports Images.