MLBTR is re-launching its Draft Prospect Q&A series this season in order to give our readers a look at some of the top names on the board in this year's draft. MLBTR will be chatting with some of the draft's most well-regarded prospects over the next couple of weeks as they prepare for the 2014 draft on June 5-7.
Teams looking to draft a future closer with serious velocity will be taking a long look at Louisville pitcher Nick Burdi.  In fact, with a fastball that hits 96-100 mph on the radar gun, Burdi stands as the hardest thrower in college.  To complement the heat, Burdi also boasts a plus slider that can develop into a premium pitch.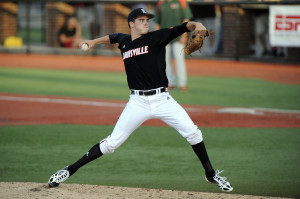 You could say that hard throwing runs in the family.  Burdi's older brother, Drew, was a quarterback at Western Michigan.  His younger brother, Zack, is a promising pitcher in his own right for the Cardinals.  Burdi has shown that he can hold that velocity over two- and three-inning outings, leading some to believe that he could blossom into a starter.  Baseball America has Burdi pegged as the No. 27 prospect in the draft, MLB.com has him ranked at No. 34, and ESPN.com's Keith Law has him at No. 52.  Burdi spoke with MLBTradeRumors on Friday about his skill set, whether he'd be interested in starting, and more:
Zach Links: What can you bring to an MLB organization?
Nick Burdi: I think what I can bring is just being a reliable relief pitcher.  I'm already comfortable in that role and I'm ready to be the seventh or eighth inning guy, know my place, and help a team out.
ZL: Ultimately, though, you want to close, right?
NB: Yes, absolutely.
ZL: Who are some of the closers that you've modeled yourself after?
NB:  Trevor Rosenthal, Aroldis Chapman, and Craig Kimbrel.  I always watched the taller closers and followed what they did.
ZL: How vital is the "closer's mindset"?
NB: I think being a closer is different when the game is on the line, everything is riding on the line at the end.  So, I think having that mindset is something that really sets some pitchers apart from others.  It's a big quality and having that football mentality where you want to just go in and set everyone down is what I bring every time.
ZL: How long did it take you to cultivate that way of thinking and what's going through your head when you're running out to the mound?
NB: For me, I kind of learned the whole mindset of being a closer while I was at Chatham playing in the Cape Cod League and facing stiff competition up there.  You learn that role pretty quickly because you know that if you have success there against that kind of talent, it shows big league scouts that you're capable of more.  I took that into my sophomore year and, as you said, I just felt comfortable in that closer's role.  I just close everything down when I'm up there it just me and the catcher.
ZL: Do you feel like you could start in the big leagues?  Is that a transition you'd be interested in making?
NB: Yeah, if a team wants to groom me to be a starter I'd be comfortable with that.  That's what I was doing up until these last two years, so I'd never rule it out.  But, for me, growing into this closers role has made me that much better of a pitcher.  That's where I shine.
ZL: How was making that transition from starter to closer for you in terms of recovery time?  I'd imagine that it's hard for a lot of guys to go from pitching every fifth day to consecutive outings.
NB: Yeah, not for me.  With my diet and my workout regiment, it was kind of an easy transition.  You pitch an inning on Friday and then maybe on Saturday and you'll usually get Sunday off.  It was never a bad bounce back for me.
ZL: What does your diet look like?
NB: I've gotten really serious about it over the past couple of years.  I eat a lot of chicken, fish, veggies, rice, fruit, smoothies, and stuff like that.  As a closer, recovery is really important, so I'm very diligent about putting the right things in my body.
ZL: With a fastball that sits at 95-98 mph, velocity is one of your best attributes.  Did it take you some time in college to develop that or have you always been throwing that hard?
NB: Since my junior year of high school I've been throwing pretty hard and my senior year of high school I reached this velocity.  I've also become a more complete pitcher and over the last few years I've been making the most of my slider and the other pitches.
ZL: When did you realize you were MLB bound?
NB: Back in junior high I was hitting 93-94 [mph] on the gun and that's when I got really serious with the game of baseball.  Ever since then, that's what I've lived and breathed.  I work out, play the games, and then get start getting ready for the next day immediately after.  This is what I've always wanted to do.
ZL: When did you stop playing football?  Could you have pursued that instead?
NB:  I played quarterback freshman and sophomore year.  Honestly, at that time, that was probably my better sport and I had some interest from different colleges.  My pitching also got sharper at this point and I realized that if I wanted to make it baseball I had to totally commit to it and give up the whole football deal.
ZL: You're widely regarded as one of the top pitchers in this year's draft and there's no shortage of complimentary things written about you online.  Do you pay attention to the rankings, scouting reports, etc?
NB: For me, I'm focused on just going out and playing baseball.  As a closer, there's not much more I can do than going out there and getting the job done.  Hopefully teams realize the stuff that I have and my potential.  I'm a hard working player who wants to give his all every single day and I'm sure everyone sees that.
ZL: What were some of the other schools you had offers from before you committed to Louisville?
NB: I had an offer from Florida State and I was also talking to LSU, Clemson, and Vanderbilt.
ZL: What did you learn from your time at Louisville?
NB: Over these past two-three years, [Louisville pitching coach Roger Williams] has really taught me how to control the game.  If I went to a different school, I'm not sure that I would have gotten all of the same benefits and insight.  I'm really glad that I got to develop my game at Louisville and I'm grateful to the coaches for giving me the chance to make those strides in my game.
ZL: Your brothers are accomplished athletes themselves.  Drew played quarterback at Western Michigan and your younger brother Zack is a pitcher for Louisville.  Could we see Zack on a big league mound someday?
NB: Yeah I definitely think so.  He throws 93-95 mph, touching 96 at times, so he's a little bit like me.  Over time he's going to grow a bit more and I think he'll be a starter ultimately.  He has a big frame and he's so athletic so I think that's the best role for him.
ZL: Is Zack in the same mold as you or is he a different kind of pitcher?
NB: He's a little bit different.  His mechanics are a little more clean than mine when I was his age.  His fastball is right there and he's got a good change up, so I think once he develops his other pitches a bit more he could be just as good as anybody.
ZL: When you were taken in the 24th round of the 2011 draft, did you give some real consideration to making the jump to the pros?
NB: Coming into my senior year that was something that was up in the air and I ended up being drafted by the Twins.  There was some consideration on my part, but I always wanted to come to school and play at the college level and play in the College World Series.
ZL: One scouting report indicated that you made some changes to your delivery which may have an adverse affect on your command.  Do you feel like that's a valid point?
NB: I don't think so.  I know people have said that but this year I pitched 32 innings and had just eight walks.  So, from a command standpoint with my two plus pitches I'm able to place everything in the exact spot I want to.
ZL: Who did you grow up rooting for?
NB: I was kind of a Red Sox fan, though I wasn't a diehard or anything.  I just love watching the game in general.
Photo courtesy of USA Today Sports Images.